More "Suite" Life for BW...Davidson Commons to be Dedicated May 2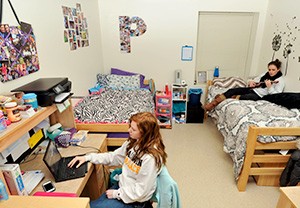 A major renovation and expansion to 63 Beech, Klein and Saylor halls, Davidson Commons is fostering vibrant suite-style residence hall living. Baldwin Wallace will formally dedicate the three-building complex May 2 to honor the leadership support for BW by James '58 and Jane Evans '60 Davidson of Malvern, Pa.
Davidson Commons, which served as first-year housing for decades, is composed of Klein, Saylor and Davidson (once referred to as 63 Beech) halls. The three buildings underwent construction in two phases over 18 months to create 54,688-square feet of new and renovated space that now features suite-style living for 177 students.
"We are grateful to Jim and Jane for supporting their alma mater in many ways through the years and in particular for their leadership with this important campus master plan project," said Baldwin Wallace President Robert Helmer. "Davidson Commons provides exceptional facilities that will benefit students today and well into the future."
"Inspiring, Welcoming" Community
Upon renovation, Klein and Beech halls re-opened in August 2013 and Saylor Hall went back online in January. This year it housed freshmen.
"It has been an inspiring and welcoming experience," said resident assistant R.J. Marshall '16. "The residents of Davidson have shown me how a community can come together so fast.
"One time I was doing late night laundry and overheard one of my residents listening to music. We had a talk about life and whatnot, which eventually led to us talking about our families and how you become so much closer once you enter college."
Like many first-year students, Josh Low has found the community aspect of BW and Davidson Commons to be beneficial. "I have developed relationships with a diverse group of people – athletes like myself as well as Conservatory of Music students. We don't know what we will do without each other next year."
Ideal Location for Food, Fun, Fellowship
"The location of Davidson Commons is ideal. It's adjacent to the Student Activity Center as well as Strosacker Hall to the east and Marting Hall and Lindsay-Crossman Chapel to the west. Residents can attend events easily and have convenient access to food and other campus resources," noted resident assistant Sydney Palermo '15.
"Community is a vital element for today's students," noted Trina Dobberstein, vice president for student affairs and dean of students. "They want housing that integrates living with learning and is accented with areas where they can gather with friends to relax, study, cook a meal together or host family and friends to campus.
"The residents of Davidson Commons like the convenience of having bathrooms and common areas alongside their bedrooms. A real favorite is the spacious gathering area with comfortable seating, a 70-inch-screen TV and an adjacent kitchen. But even little things, like the indoor bike storage area and sustainability-focused reverse osmosis water fountains, are enhancing their campus experience."