Baldwin Wallace Hosts Dance Marathon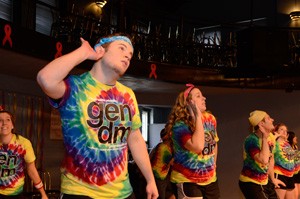 The BW community is coming together to raise funds for the Elizabeth Glaser Pediatric AIDS Foundation at the 13th Annual Dance Marathon.
Dance Marathon 2014, which will bring together students, faculty, staff, alumni, parents and guests, will take place on Saturday, March 1, from noon to midnight in the Baldwin Wallace Student Activities Center (SAC).
During the 12-hour event, which is the biggest student-led philanthropic event at BW, participants not only dance but listen to speakers from the foundation, watch educational videos, and discuss what the cause means to them. Visitors are encouraged to participate in a silent auction as well as various other activities.
National Foundation Ambassador to Appear
A highlight this year will be an appearance by Jamie Gentille, an ambassador from the Elizabeth Glaser Pediatric AIDS Foundation, who acquired the HIV virus as a young child through an unscreened blood transfusion. "Today, I am 35 years old. I'm not only LIVING with HIV, but I'm THRIVING," she says. "I am here because of well-timed research."
"The students at BW are extremely caring, and love coming together to participate in this unique event,"said Student Director Chelsea Lewis '14.
Over the past 12 years, BW Dance Marathon has raised over $300,000 in donations for the foundation, with a shared mission of "uniting the community in a tradition of hope that one day children infected with HIV/AIDS will be cured." BW Dance Marathon likes to say the event is "helping the Foundation create a generation free of HIV - one shake and shimmy at a time.
About the Elizabeth Glaser Pediatric AIDS Foundation
The Elizabeth Glaser Pediatric AIDS Foundation is dedicated to the prevention of pediatric HIV infections and elimination of pediatric AIDS through research, advocacy, and prevention, care, and treatment programs. All of the money students raise goes directly towards the Foundation's work in 15 countries around the world. It costs the Foundation just $19 to reach one woman with the services she needs to prevent HIV transmission to her child.