Baldwin Wallace University Class of 2014 Celebrates Commencement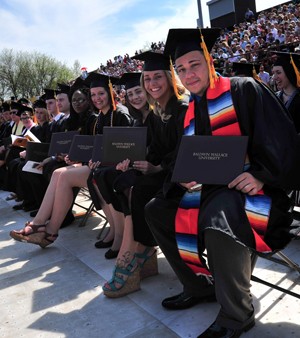 BW applauded the achievements of nearly 1,000 graduates at the 164th Commencement ceremonies.
Mark Shapiro, president of the Cleveland Indians, spoke to 755 undergraduate students and their guests on Sunday, May 11, while Dr. William T. Hiller, executive director of the Martha Holden Jennings Foundation, delivered the address at the Saturday, May 10 graduate ceremony.
Both Shapiro and Hiller received the honorary degree of Doctor of Humane Letters from BW. An additional Honorary Doctor of Humane Letters was awarded posthumously to Dr. Thomas A. Riemenschneider who served and supported the University in many capacities before his death last month.
Indians Chief Encourages "Resolve, Grit and Determination"
At the undergraduate ceremony, held under sunny skies in Finnie Stadium, Shapiro used his address to inspire the graduates to differentiate themselves by working to develop "resilience and toughness in the face of adversity."
Shapiro described how Indians outfielder Michael Brantley responded to a recent hitting slump by taking extra batting practice just hours after an overnight flight from a challenging road trip. "He was not lying in bed at home feeling sorry for himself. He was not pondering 'if' he would hit again. He was not considering if the streak would continue and he was not thinking about excuses—he was working to find his swing and get back on track."
In closing, Shapiro urged, "Be someone who looks at each experience as an opportunity—regardless of outcome—to develop, improve and get better."
Posthumous Honorary Degree for a Distinguished BW Friend
One of the most touching moments of the undergraduate ceremony came during the recognition for the  late Dr. Riemenschneider. In accepting the award for her late husband, Judy Riemenschneider said, "He loved this university; he loved education and he would be so proud of you today."
She also turned to tell Shapiro that Dr. Riemenschneider "would have agreed with every word" of his inspiring address about determination and persistence.
Honors Include Top Academic Track Record, 14 Years in the Making
Persistence is a trait that the top scholar in the BW Class of 2014, Cheryl Sebjenics, knows well. Sebjenics is the first non-traditional student to receive the Milton T. Baldwin Prize, given to the graduate with the highest academic achievement at BW. Sebjenics earned a perfect 4.0 while taking one course nights or weekends almost every semester -- Fall, Spring, Summer -- since the year 2000! Sebjenics said she "loved every minute" of her 14-year journey to graduation day, chronicled in Sunday's Plain Dealer.
The Class of 2014 also included more than 223 high-achieving students who graduated with honors: 43 earning summa cum laude recognition with a cumulative grade point average of 3.90 or higher; 102 graduated magna cum laude with a 3.75 GPA and while another 78 earned cum laude honors, with a 3.60 GPA.
Ten graduates were recognized as 2014 Outstanding Seniors for overall excellence and contributions to campus life including academics, leadership, service and involvement on and off campus. The graduating seniors acknowledged for demonstrating excellence in all areas of their University endeavors are Zachary Barley, Alexandra Farone, Ellen Fedick, Brooke Hradisky, Patrick Mahoney, Daniela Muhaj, Kayla Rodriguez, Jason Roberto, Rachel Spiker and Sophia Viglione.
Sage Advice at Graduate Commencement & Baccalaureate Addresses
At Saturday's graduate ceremony, which took place in Ursprung Gymnasium, Hiller told 206 master's degree recipients that "mastery of your content area is not enough." Hiller invited these "masterminds" to develop the social and emotional skills that will "make you masters of your own destiny."
"Continue to be learners, seek wisdom, have empathy for others, and, especially today, thank your family/spouse/friends for their encouragement and patience as you pursue your goals," he added.
Addressing graduates attending the Sunday morning Baccalaureate service at the Kulas Musical Arts Building, Mila Cooper, BW director of community outreach, used the warning, "don't text while driving" as an illustration and inspiration for graduates to slow down and live their lives being fully present in each moment.
Replay Ceremony Online; View Photos
BW provided a live webcast of both commencement exercises, which are available for replay viewing online. Photo galleries of the events are being posted on the Baldwin Wallace University Facebook page and on Flickr as batches of photos are processed. Check for updates.