Top Baseball, Philanthropy Executives to Speak at 164th Baldwin Wallace Commencement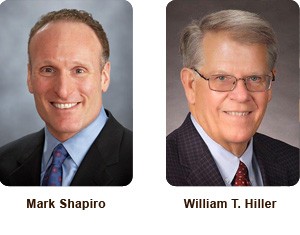 Nearly 1,000 undergraduate and graduate students will participate in the 164th Commencement ceremonies May 10-11 as speakers Mark Shapiro and William T. Hiller address the BW community.
Shapiro, president of the Cleveland Indians, will speak to over 760 students and guests at the undergraduate ceremony Sunday, May 11, 2:30 p.m., in the George Finnie Stadium, 141 E. Bagley Rd. (rain site: Ursprung Gymnasium in Lou Higgins Center).
Hiller, executive director of the Martha Holden Jennings Foundation, will address nearly 200 graduate business and education students at the graduate commencement Saturday, May 10, 10:30 a.m., at Ursprung Gymnasium, 136 E. Bagley Rd.
Strong, Principled Leader for Cleveland Indians
Shapiro has been with the Cleveland Indians since 1991. He has climbed the ranks from director of player development to vice president of baseball operations/assistant general manager, to executive vice president/general manager, to his current position of president.
Named Executive of the Year by Sporting News in 2005 and 2007, he is known for being a principled, committed leader who speaks on topics of leadership and innovation. He engages his audience with personal narratives, insights and motivation.
A familiar face on campus, he has spoken numerous times to the Baldwin Wallace community on behalf of the Center for Innovation & Growth as well as organizations for student-athletes.
He earned a bachelor degree in history from Princeton University, where he also played football.
Committed to Advancing Excellence in Education
For 45 years, Hiller has been a leading advocate for education. He began his career as a secondary social studies teacher and advanced to leadership roles that include being a principal, director of education and assistant superintendent.
In 1993 he was named superintendent of schools in Mentor, the 14th largest district in Ohio. In 2001 he became the executive director of the Martha Holden Jennings Foundation, which distributes approximately $3.5 million/year to school districts, colleges and museums.
His career accolades include being appointed by President George W. Bush to the National Institute of Literacy Board and being named by Executive Educator Magazine as one of the up and coming 100 school managers in North America. In 2006 he received the President's Medal from Cleveland State University. He is active in several education-focused organizations.
Hiller earned his bachelor and master's degrees in education from Indiana University of Pennsylvania and a doctorate from the University of Pittsburgh.