Baldwin Wallace University is a Top Choice in Latest "College Choice" Rankings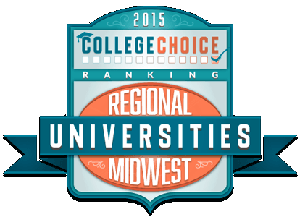 BW is ranked at number 18 on a new list of the Top 50 Midwestern Regional Universities compiled by College Choice. The independent college search and rankings website also placed BW among the top 50 online MBA and graduate business programs in the U.S., the latest in a string of recent recognition.
According to College Now, the undergraduate rankings "are based exclusively on factors actual college freshmen said were most important to their college decision… academic reputation, financial aid offerings, overall cost, and success of graduates in the post-college job market."
The independent online publication says the data used to analyze colleges and universities for possible inclusion on the 2015 rankings was derived from a variety of publicly available sources, including U.S. News & World Report, the National Center for Education Statistics, and PayScale
Inclusion on the College Now's Top 50 Midwest list is the latest recognition for BW this fall. Previously, the university was recognized on three lists of distinction compiled by US News & World Report and achieved a national ranking on the new outcomes-based Educate to Career (ETC) list.
Earlier in the year, BW was selected for inclusion to Washington Monthly's 2014 Best Master's Universities as well as the magazine's Best Bang for Buck list. BW also is listed among Forbes 650 Top Colleges and Princeton Review's Best Midwestern Colleges.