BW Recognizes Graduates at the 2014 Celebration of Completion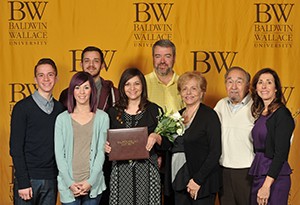 Sunday was a day of jubilation for 36 Baldwin Wallace seniors as they participated in the eighth annual Celebration of Completion. On December 14, years of hard work, dedication and study came to a glorious end as students who completed their degree requirements in the Fall Semester 2014 were recognized in a public ceremony in the Kleist Center for Art and Drama.
While the University officially salutes its graduates and confers degrees at Commencement in May, some students who finish early are unable to participate in the traditional spring Commencement. Baldwin Wallace is pleased to provide a December event to recognize our students' achievements and to celebrate their successes in completing degree requirements.
The following graduates participated in the 2014 Celebration of Completion ceremony:
Rachel Kathryn Antrim
Julie Ann Boutal
Jenna Marie Burnett
Alexandra De Medeiros Coutinho
Dale Allen Crowley, Jr.
Cassandra M. Delzeith
Patrick John Fissell
Jessica Gobor
Tracy M. Hagedorn
Katherine Joy Haig
Megan Higginbotham
Reina Hirano
Kalli Ann Holdash
Kerri Lee Holdash
Holly E. King
Adam George Kirsch
Rachel Kocin
Rosa J. Kovacevich
William Joseph Krupa
Harisa Lagji
Filipe Goncalves Lemos
Elliott T. Mahnke
Karim Mehanni
Michael Joseph Mitoff
Christopher Matthew Mohler
Kyle James Ohradzansky
Brian M. Paul
Kelsi Dawn Paxton
Andria E. Sagri
Victoria Lynn Sherry
Korin L. Stubbs
Casey Elizabeth Sweet
Denise Marie Treadway
Bruna Vanhazebrouck
Irket S. Veliu
Carolina Ribeiro Vogt