Baldwin Wallace University Nursing Program Gains CCNE Accreditation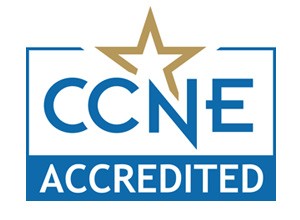 The Baldwin Wallace University Accelerated Bachelor of Science in Nursing (ABSN) program has been awarded accreditation by the Board of Commissioners of the Commission on Collegiate Nursing Education (CCNE) through June 2019.
CCNE is a nongovernmental peer review process that serves the public interest by assessing and ensuring the quality and integrity of baccalaureate, graduate, and residency programs in nursing.
"We welcome this formal recognition of the quality of our nursing program and recognize that it comes as a result of the hard work of many people in the BW academic community," said BW Provost Stephen Stahl. "This CCNE accreditation is the latest evidence that we are building a program that represents the highest standards of intentional excellence in nursing education."
Members of the first BW ABSN graduating class (July 2013) performed at an exceptional 94.74% first-time pass rate on the National Council Licensure Examination (NCLEX), placing BW among the top-performing nursing programs in the State.
BW initiated the ABSN 12-month post-baccalaureate nursing program in August 2012 in response to an increasing need for RNs at hospitals, clinics and public health agencies. BW nurses are now employed in many Northeast Ohio health care organizations including Southwest General Health Center, University Hospitals of Cleveland, MetroHealth Medical Center, and Akron Children's Hospital.