BW Talent Behind "Revolutionary" Staging of "Les Miz"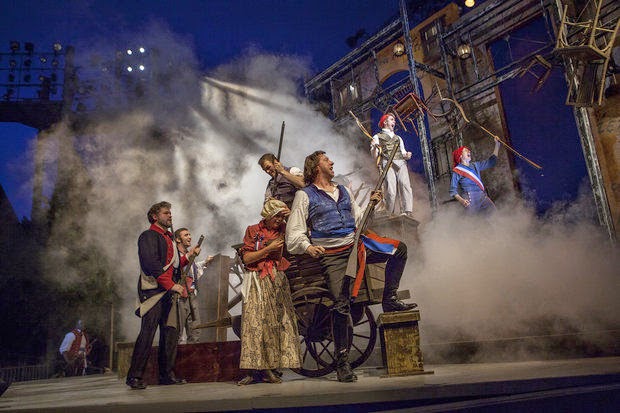 With mega-talent from BW involved, it's no surprise that the upcoming Great Lakes Theater production of LES MISERABLES is garnering advance buzz. In an article for The Plain Dealer's Fall Arts Guide - Theater Preview, BW Music Theatre director Victoria Bussert, who is directing "Les Miz," and BW theatre professor Jeffrey Herrmann, the show's scenic designer, explain how they solved the challenges of scaling the epic production for the Idaho Shakespeare Festival this summer and the move to PlayhouseSquare's Hanna Theatre this fall.
Bussert tells the paper that "the difference between seeing it in a 2,000-seat venue vs. a 600-seat venue is that you're going to intimately know these characters." PD theater critic Andrea Simakis writes that patrons who caught this fresh take on "Les Miz" in Idaho this summer "marveled that it was as if they were seeing the show for the first time."
"Les Misérables" opens at the Hanna Theatre on Saturday, Oct. 4. Get your tickets now because Simakis reports that advance single-ticket sales for the show have already shattered the previous record set by Bussert's version of "Sweeney Todd" staged last fall.
By the way, the BW connections don't end with Bussert and Herrmann. BW dance professorGregory Daniels is choreographer for the production and the cast includes BW alumni Laura Welsh Berg '05, Jodi Dominick '01, Clare Eisentrout '13, and Alex Syiek '13, and current BW music theatre majors Kyle Jean Baptiste '15, Brandyn Day '15, Keri René Fuller '15,  Mickey Ryan '15 and Sam Wolfe '15.