BW Moves East Side Operations to State-of-the-Art Facilities at Corporate College East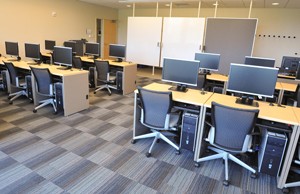 A newly signed agreement with Cuyahoga Community College establishes "Baldwin Wallace University at Corporate College East," the new home for BW's operations on Cleveland's east side.
The impressive facility is located in Warrensville Heights at the intersection of I-271 and I-480, less than two miles from BW's current east side location in Beachwood.
Potential for "Broader, Stronger" Collaboration
"We have enjoyed a long and positive relationship with Tri-C, and our hope is that this arrangement will help us build on that history and move quickly to even broader, stronger partnerships in the future," said Steven Stahl, BW Provost.
In addition to evening and weekend access to classrooms, BW's new facilities will include dedicated office space, seminar and meeting rooms, and a state-of-the-art computer laboratory.
Next MBA Open House; Fall Classes Move to New Location
The University's first official function at Corporate College East, located at 4400 Richmond Road, will be an MBA open house Wednesday, August 13. BW undergraduate and graduate classes in business will be offered in the new location beginning with the fall semester.
For more information on educational opportunities at BW's east side location, visit BW at Corporate College East on the web or call 440-826-8012.