Baldwin Wallace Research Shows Improved Health in Local Water Source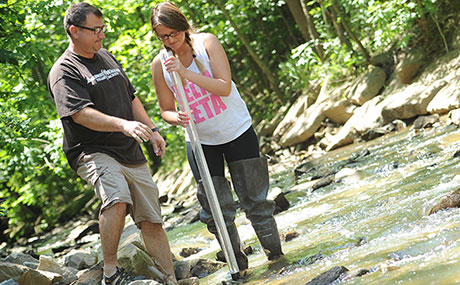 A BW student-faculty research project has provided evidence that the 2012 removal of three dams on Baldwin Creek is beginning to pay off in improved water quality.
Baldwin Wallace Biology professor Chris Stanton and more than a dozen students have spent 5 years (pre- and post-dam removal) sampling water quality in the creek which, along with its Rocky River/Coe Lake destination, serves as the source of drinking water for Berea, including the BW campus.
"Most Northeast Ohio communities rely on Lake Erie for water. The fact that Berea is drawing from these local streams and lakes, means we need to make sure the health of our water resources is a priority," Stanton notes.
BW Summer Scholar Measures Changes in Stream Health
Last summer, BW junior Jenn Lenart '15, of Naperville, Illinois, won a BW Summer Scholars grant to take the first series of water quality samples on Baldwin Creek following dam removal. She and Stanton have since analyzed the data and made comparisons with tests conducted before the dams came down.
"Changes in stream health can take a long time to occur," Stanton reports. "But we found some interesting results just 6-9 months post-removal."
Moving in the Right Direction
Among the findings (also featured in the Plain Dealer) was a measure of the health of invertebrates in Baldwin Creek. The MAIS scale (Macroinvertebrate Aggregated Index for Streams) used by the Ohio EPA moved up from "very poor" to "poor."
"That may not sound good, but the MAIS scale only includes two higher categories of "fair" and "good,"Stanton observes. "There's still a long way to go in terms of improving the water quality of Baldwin Creek, but the stream health appears to be heading in the right direction and that's encouraging."
In addition to documented increases in the invertebrate population, the BW-generated data also noted "not quite statistically significant" improvements in dissolved oxygen levels and water temperature.
Fish Diversity also on the Rise
Even more exciting, Stanton says, is the recent sampling of fish in the area, conducted by BW alumnus Mike Durkalec '93, aquatic biologist for the Cleveland Metroparks. In addition to documenting overall improvement in fish diversity, Durkalec collected 10 state-threatened Bigmouth Shiners on Thursday from the former dam area.
One of the goals of the dam removal project, funded with Ohio EPA grant monies, was to reconnect the resident population of the Bigmouth Shiner in Baldwin Creek with the community of the same species in the East Branch of the Rocky River.
"We're excited to see this threatened species re-inhabiting this area of the creek," Stanton says.
Research Helps Define Passion for the Environment
Lenart, an economics major, biology minor, with an interest in sustainability, says the time spent in hip waders has been an eye-opening experience.
"This research has made me realize that we can make a difference for the environment," she says. "I'm so grateful that I was able to be a part of this project and know that I am contributing valuable knowledge to the community."
Plans to Continue Monitoring and Sharing Results
Stanton has plans to mentor additional students as they conduct another round of data collection in mid-summer (2014).
The results-to-date are slated to be presented at BW's 2014 Ovation event during the day on May 1 and at the Baldwin Creek Stream Team Kickoff Meeting, sponsored by the Rocky River Watershed Council later that same evening at Grace Church. They have already shared the research at the Midwest Ecology and Evolution Conference and the Ohio Natural History Conference.