Five Honored with Prestigious Baldwin Wallace Alumni Merit Award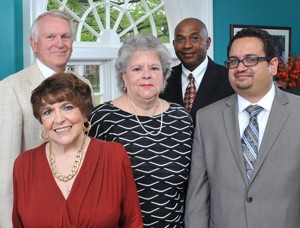 Five distinguished alumni have been honored with the highest recognition that can be bestowed upon a graduate of Baldwin Wallace: the Alumni Merit Award. The 2014 honorees include Patricia (Cirigliano) Ciancutti '57, Bennett Gaines '75, Steven E. Koenig '69, Karen Melton '87, '90, and Victor Ruiz '99.
Although the honorees have embarked on distinctive professional and personal paths, each of their lives is distinguished by an impressive blend of high career achievement and generous community service.
Patricia (Cirigliano) Ciancutti '57
For her accomplished career performing, teaching and promoting the joy of music, and her dynamic leadership in BW alumni organizations
Patricia ("Pat") established a relationship with Baldwin Wallace early in life when she began piano lessons with the Conservatory as a child. While at BW for college, Pat took part in Bach Festivals and Greek Sing competitions, while performing regularly for Cleveland radio programs and community church services.
After graduating with a Bachelor of Music degree, Pat continued as an adjunct member of the Conservatory faculty and became music director of St. Mary's Church in Berea. She also taught choral music and was the choral director in the Berea public schools and area parochial schools, wrote, directed and played in community productions, and performed at thousands of weddings, funerals and other specials occasions from Berea to New Orleans to Rome.
Pat hosted many fundraising recitals in her home, which made possible purchases of new and upgraded instruments and theatrical equipment for use by BW students. Pat is the president of the Delta Zeta Alumnae Association, founder and president of the BW Women's Conservatory Committee, past president of the BW Alumni Council, and a member of the BW Women's Club. In retirement, she has established a local women's singing group, Bellissimo, and continues to accompany BW vocal students in the Conservatory of Music on a weekly basis.
Bennett Gaines '75
For his transformational and influential corporate technology leadership and devoted service as a BW trustee
Bennett Gaines earned a BA in Sociology and Anthropology from BW in 1975, and he holds an MA from the University of Phoenix. He is currently the vice president of information technology/corporate security and chief information officer for FirstEnergy Service Company, a subsidiary of FirstEnergy Corp. Prior to joining FirstEnergy, Gaines was the vice president and CIO for the Cincinnati-based Cinergy Corporation, and a managing director at Powergen PLC in the United Kingdom. Gaines spent 19 years with IBM, EDS and McKesson in various senior management positions before going into the Energy Industry.

Throughout his career in large corporations, Gaines has been seen as a transformational leader who inspires remarkable results. In 2008, Career Communications, Inc. honored him as one of the country's most influential black executives in technology.

Gaines has served on the BW Board of Trustees since 2007. He also has been involved in numerous civic and community organizations including service as a board member at the Central Clinic in Cincinnati, Ohio, Akron YMCA and Akron and Cleveland Urban League.
Steven E. Koenig '69
For stellar achievements in the aerospace industry, inspiring community involvement, and outstanding service and commitment as a BW Trustee
After earning his BA in accounting and economics at BW, Steve was awarded a Department of Transportation Fellowship to attend the American University, where he completed an MBA in Transportation Management. Steve went on to forge a distinguished, 40-plus year career in the aerospace industry, including seven years of service to the Civil Aeronautics Board. Steve held executive positions at Fokker Aircraft, Fairchild-Dornier and Rolls-Royce. In the latter part of his career, Steve established his own aviation-consulting firm, PlaneFlite Associates. He received a government commendation for his work in airline deregulation.
A firm believer in the value of education, the retired San Antonio, Texas resident is a member of the San Antonio Education Partnership Board as well as the Alamo Colleges Foundation Board, which both provide scholarships and other educational opportunities. His recent volunteerism has focused on the San Antonio Food Bank, where he's done everything from sweeping the floors to establishing a growing Endowment Fund, to serving as chair of the Board of Directors. Under his leadership, the organization broke ground on a new campus to house expanded services that now reach more than 58,000 people weekly.
Along with membership in BW's Heritage Society, Steve and his wife Sharon have hosted numerous alumni receptions in their homes and provided substantial financial support to BW. A BW Trustees since 2006, Steve stepped up to serve as chair of the Governance and Trusteeship Committee for three years.
Karen Melton '87, MBA '90
For her exceptional accomplishments as a top financial executive and tireless devotion to nonprofit work including support for her alma mater
Melton graduated from BW with a BA in Business Administration in 1987 and an MBA in 1990. She is currently the CFO and vice president of human resources at Kaufman Container Company where she has worked since she joined the Cleveland-based industrial bottle and package distributor as an accountant in 1977. Melton has developed a variety of employee recognition programs for the company, which has seen sales grow 37% since she was elevated to vice president in 1995. In 2008, Crain's Cleveland Business honored Melton as CFO of the Year.

Active in the community, Karen has served on the board of Lawrence School for children with learning differences and attention deficits since 2000. As president of the Board from 2004 to 2007, she oversaw a capital campaign for construction of a new upper school campus in Sagamore Hills.

Melton is the current president of the Rotary Club in Cleveland, former president of the Cleveland Women's City Club Foundation and on the Sullivan Scholars Board. She also helped establish a scholarship program that has awarded $24,000 in scholarships to female graduates of the Cleveland Metropolitan School District over the last six years. Melton also includes her alma mater in her nonprofit work, serving on the Baldwin Wallace Alumni Council since 2011, and the Baldwin Wallace Women's Club since 1987.
Victor Ruiz '99
 For his visionary leadership and effective management of award-winning programs that create educational opportunities for all
 Victor is currently the executive director at Esperanza, Inc., a 30-year-old nonprofit with a mission of improving the academic achievement of Hispanics in Greater Cleveland. After Victor graduated from what is now the Cleveland Metropolitan School District's Garrett Morgan School of Science, financial aid from the Cleveland Scholarship Program helped him attend Baldwin Wallace. At BW, he majored in English with dreams of going to law school. But a college-years job with the Scholarship Program (now College Now Greater Cleveland) led to assistant vice president and supervision of programs in Cuyahoga and Lorain counties.

Since his 2010 appointment, Esperanza has flourished under Victor's leadership, offering a portfolio of programs that give students and their families help with tutoring, mentoring, scholarships and other programs. The result is a rise in high school graduation and college participation rates in Cleveland's Hispanic community. In 2012 the organization won the prestigious Anisfield-Wolf Community Organization Award from the Cleveland Foundation.

Along the way, Victor earned a master's degree in school counseling at Cleveland State University. He was recognized in Crain's Cleveland Forty under Forty, and as the Cleveland Brown's/NFL Hispanic Heritage Leadership Award winner for 2013. He was also recently named a WK Kellogg Community Leadership Fellow.
 Posted April 2014