Parade of Pianos Launches All-Steinway Initiative at BW Conservatory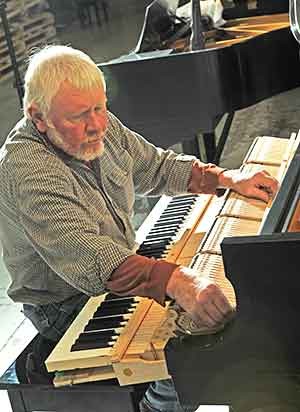 Twelve new pianos, including nine Steinway grand pianos, rolled into Boesel Musical Arts Center Monday, Jan. 27, signifying the launch of an initiative leading to a prestigious All-Steinway School designation for the Baldwin Wallace University Conservatory of Music.
At the completion of the project, which ultimately will provide a total of 88 new pianos, the BW Conservatory will join an elite list of 11 conservatories worldwide that boast the All-Steinway School classification. The All-Steinway initiative is expected to take a couple of years to complete. Several BW alumni and friends have already committed to purchasing pianos.
Steinway Designation: Commitment to Excellence
"This project will vastly upgrade the piano inventory Conservatory-wide," said Conservatory Director Susan D. Van Vorst. "Pianos are the primary teaching instruments for all music majors, and I believe that our commitment to this level of excellence in our instruments and our facilities is critical to maintaining the highest standards in musical training." 
Robert Mayerovitch, head of BW's keyboard department added, "The Steinway reputation for excellence is recognized throughout the world. Our students who strive to be professionals will be able to learn and perform on the same quality of instrument that is standard in the majority of concert halls internationally. For the artists on the faculty, it will make a difference in our performance preparation as well."
Generous Gift Honors Kadel Family
The purchase of this first group of pianos was made possible through a generous gift from the estate of Arline Kadel '36. Miss Kadel, who had sung in the first Bach Festival in 1932, and attended all but one of the annual celebrations since, remained active in the life of the university over the next 80 years.
The former high school music teacher, who died in August 2013, provided a bequest for $2.7 million to her beloved BW Conservatory of Music, a portion of which funded the initial piano purchase.
"Arline was devoted to music, education and Baldwin Wallace University throughout an active life that spanned nearly a century," noted BW President Robert Helmer. "This magnificent gift will perpetuate those passions and enhance the learning experience for our students for years to come. We are deeply grateful for all that she has done for BW."
"One of the new Steinway grands was selected specifically for Kadel Hall, dedicated in 2011, and we will honor Miss Kadel daily through inspired music making," said Van Vorst.
Posted January 2014