New Academic Structure at BW Supports Effective Collaboration and Teaching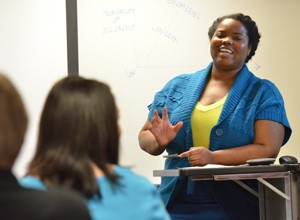 The academic organization of Baldwin Wallace University is changing as BW continues to evolve to meet the needs of students studying in a diverse mix of more than 60 undergraduate and graduate majors.
The new framework replaces BW's former academic divisions with four new Schools, including a newly created School of Health Sciences. A new College of Arts and Sciences will house four additional schools. The Conservatory of Music designation is not changing.
"We grouped academic majors and programs to maximize collaboration, effective communication and efficient delivery of our promise to help all of our students reach their academic and personal goals," said BW Provost Stephen Stahl. "What remains unchanged is BW's unwavering commitment to providing a supportive community, strong faculty mentoring and opportunities for our students to engage, grow and succeed."
Under the new structure, the titles of dean and associate dean have replaced the old division chairs, so John Lanigan now serves as the Dean of the School of Business; Karen Kaye is Dean of the School of Education and Susan Van Vorst is Dean of the Conservatory of Music. Associate Provost Guy Farish also is designated as Dean of the new College of Arts and Sciences, with associate deans heading up a School of Humanities (Susan Oldrieve), School of Social Sciences (Dale Grubb), School of Natural Sciences, Mathematics and Computing (Jim McCargar), and School of Health and Physical Education and Sport Sciences (Amy Jo Sutterluety).
The Dean of the School of Health Sciences has not yet been named. The new Health Sciences umbrella will take in communications disorders, nursing, physician assistant and public health. The changes were effective July 1.