Les Misérables Revolutionary Success with BW Involvement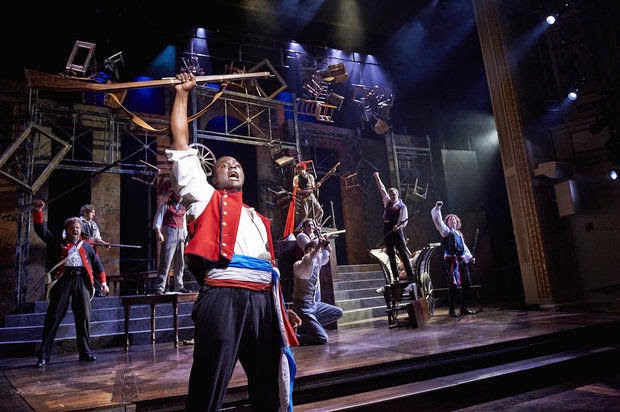 Rave reviews have been rolling in for the Victoria Bussert-directed production of LES MISÉRABLES for the Great Lakes Theater. The show not only features BW's director of music theatre at the helm, but countless other BW students, alumni and faculty on stage and behind the scenes.
"[Bussert's LES MISÉRABLES] relies on performances rather than pyrotechnics, and it is glorious in its simplicity," Andrea Simakis of The Plain Dealer said, lauding the show overall as "rendered as exquisitely and passionately as a Monet brushstroke."
The review also recognizes the work of two more of BW's own in applauding the "hypnotic" choreography of Gregory Daniels, professor of dance, and the "bracingly realistic" set design of Jeff Hermann.
BW seniors Kyle Jean Baptiste and Keri René Fuller also received a highlight in the review for their powerful performances as Enjolras and Éponine, respectively. Other BW students/alumni in the ensemble include seniors Brandyn Day, Mickey Ryan, and Sam Wolfe, while BW alumni Laura Welsh Berg '05, Jodi Dominick '01, Clare Eisentrout '13, and Alex Syiek '13 add to the cast of 23.
In addition to reviews from the Akron Beacon Journal, Cleveland Scene, Roy Berko.info and AXS.com, the show also received top marks from the Idaho Statesman when it premiered at the Idaho Shakespeare Festival in July. LES MISÉRABLES is at PlayhouseSquare's Hanna Theatre through November 9, with many performances sold out.