Baldwin Wallace Appoints University Provost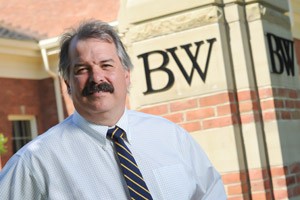 Baldwin Wallace University has named Stephen D. Stahl as BW Provost. The appointment will take effect on June 17.
Stahl is currently Vice President for Academic Affairs and Dean of the Faculty at Wheeling Jesuit University in W.Va. The Long Island, N.Y. native and geologist, has forged a distinguished career as an innovative academic leader.
"Steve brings considerable experience and leadership in higher education to BW, as both a faculty member and Vice President," said BW President Robert C. Helmer. "He has established an impressive record of achievement as a collaborator and team builder and has initiated a number of innovative programs that meet the needs of today's students. The BW community is pleased to welcome him to our campus."
Track Record of Program Innovation
At Wheeling Jesuit, Stahl helped to add new undergraduate and online graduate programs and instituted a robust student success initiative. He also worked to expand the global reach of the campus through exchange agreements, the establishment of a service abroad program and a summer program for international high school students.
"I am looking forward to joining the dedicated and talented faculty, staff and students at Baldwin Wallace," said Stahl. "This is an institution that I've long admired and I have high expectations for what we can accomplish working together."
Leadership Experience at Diverse Institutions
Prior to Wheeling Jesuit, Stahl held positions as Dean of the School of Arts & Sciences at St. Bonaventure University; Vice President for Academic Affairs and Dean of the College at Sweet Briar College, where he also held a faculty rank as Professor of Environmental Sciences; Dean of Natural and Social Sciences and Professional Studies at the State University of New York College (SUNY) at Fredonia; and chairperson of the Geology Department at Central Michigan University.
Stahl completed both his doctorate and master's degree in geological sciences at Northwestern University and earned his undergraduate degree in geology from Washington & Lee University.
Praise for Interim Dean and Search Committee
At BW, Stahl will succeed Interim Vice President for Academic Affairs and Dean of the University, Guy Farish, who filled that role for the past year following the retirement of Mary Lou Higgerson. "I want to thank Guy for his exemplary service to BW in this demanding interim role," Helmer said. "We are grateful for the leadership he has provided during this transition period and look forward to his continuing contributions to BW."
Helmer also praised the search committee, co-chaired by Trina Dobberstein, Vice President for Student Affairs, and Kent Cleland, Professor of Music. The committee spent nearly a year assembling and screening an outstanding national pool of candidates.
Newly Created Post Reflects Contemporary University Structure
The new title of BW Provost replaces "Vice President for Academic Affairs and Dean of the University." The new designation is more consistent with contemporary university structure. BW moved from College to University status on July 1, 2012 to more accurately reflect the institution's growth and breadth of academic programming.