Measuring the Sun for the Cleveland Zoo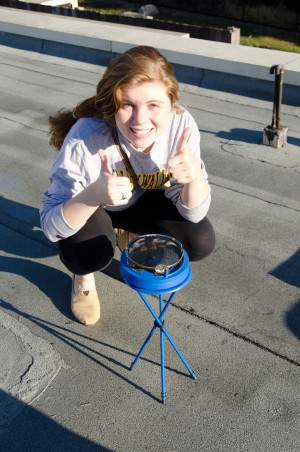 Sonny Grzybowski '16 and Sarah Brigadier '15 are wild about clean energy. The Sustainability majors at Baldwin Wallace are conducting a solar audit for Cleveland Metroparks Zoo that will add one more impressive project to their resumes.
By A. Paige Greene '14
Grzybowski and Brigadier began working at The Sustainability Clinic last year. The clinic, a collaboration of students, faculty, alumni, and professional mentors, works with area organizations to recommend and implement sustainable business solutions.
Cleveland Metroparks Zoo approached The Sustainability Clinic to evaluate the feasibility of installing solar panels that would serve both as an educational tool and to create low-cost, cleaner energy.
"It's fun. You get to go out to the zoo and see behind the scenes. We're getting educated on all sorts of things outside of our field." Brigadier says.
Measuring From Rooftops
After the students checked satellite photos to determine which buildings were most feasible, four were selected to be audited; The Rainforest building, The Primate, Cat, & Aquatics building, The Hospital Staff Center, and the Administration building.
The students then ventured onto the roofs of these buildings to gather solar readings using a Solar Pathfinder. The information they collected is put into a computer program that determines the percentage of sunlight the location should receive in a year.
Grzybowski and Brigadier will create a report with that information, making recommendations and explaining how much money the zoo will save by implementing solar energy. Their final task as consultants comes in December, when they will present this report to the Board of Directors and three commissioners.
Students, Clients and Campus Benefit
"I'm getting a lot of field experience, and the knowledge that I have about solar panels is a lot more than most people my age. It puts me a step ahead with internships." Grzybowski says, "It's helping get my name out."
Other businesses that have taken advantage of BW Sustainability Clinic consulting include Cleveland Metroparks, The Cleveland Foodbank, The Cleveland Neighborhood Development Coalition, Rockport Retirement, MTD Products and Goodwill Industries.
In addition to their business clients, the students are also working to improve BW's campus. They presented a solar audit last year that highlighted changes that would help the campus in its commitment to the environment. Both on campus and off, these students are dedicated to being influential and compassionate global citizens.