BW Students Present at Renowned Public Health Conference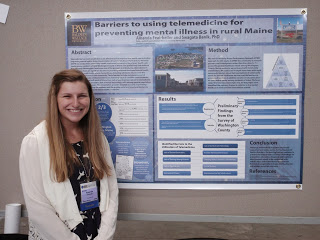 Two BW Public Health students were among a select group of undergraduates to present projects at a highly esteemed national conference. Amanda Feairheller '15 and Robert Hood '14 joined researchers and clinicians who showcased their work at the recent American Public Health Association (APHA) annual conference in Boston.
Feairheller presented a poster showcasing research into "Barriers to using Telemedicine for Preventing Mental Illness in Rural Maine."
Hood's research poster presentation was titled "Self Reported Health Status and Barriers to Self-Management of Chronic Diseases Among an Undeserved Community in Rural Maine: Preliminary Findings."
The student research was based on an ongoing Community Based Participatory Research partnership between BW's Public Health program and the small fishing village of Lubec, Maine. The student research is mentored by Swagata Banik, Ph.D., associate professor and public health program director.