Physician Assistant Students Mark First Step at White Coat Ceremony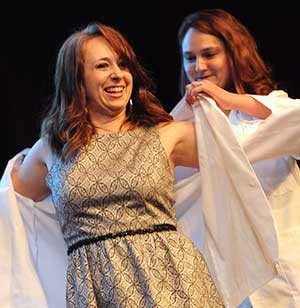 In a time-honored tradition marking the beginning of their professional journey, 19 students in BW's new physician assistant program received their white coats.
Held Sept. 8, the event was Baldwin Wallace's inaugural White Coat Ceremony for its physician assistant (PA) students. In addition to receiving their coats, the participants recited the Physician Assistant Oath.
The students mark the University's first class in its 24-month, master's level PA program. Classes began in May.
The PA program, as well as BW's new 12-month accelerated bachelor of science in nursing program, address today's critical healthcare needs. CNNMoney.com ranks physician assistant as its #2 choice for a healthcare career in its "Best Jobs in America" list. Forbes.com rates physician assistant #1 on its list of "best master's degrees for jobs."
Baldwin Wallace is one of only ten accredited physician assistant programs in Ohio.