Packard Athletic Center Opens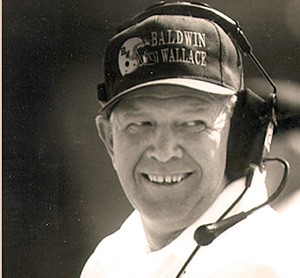 New training facilities for BW students and offices for football and lacrosse are among the highlights of the Robert Packard Athletic Center.
The complex honors the late Coach Robert D. "Bob" Packard '65, who coached BW football for 34 years—including 21 as head coach—and was a respected faculty member and mentor.
During his career, Packard participated in more than half of the all-time Yellow Jacket wins and his 156 head coaching victories were one more than his coach and mentor, the legendary Lee Tressel '48.
In addition to training facilities and locker rooms, the $3 million project that expanded and renovated the former Bagley Hall includes coaches' offices for football as well as lacrosse for men and women.
"We are deeply grateful to the trustees, alumni and friends of Baldwin Wallace who have made it possible for us to add this much-needed enhancement and, at the same time, to honor the memory of such an exceptional person," said BW President Robert Helmer. "Bob Packard touched the lives of thousands of students as he went about the work of shaping teams and molding young people. I think he would be pleased to see this facility doing the same for generations of students in years to come."
Highlights of the New Packard Athletic Center
Included in the Packard Center are:
Dramatic new entrance, lobby and display areas,
Addition of a 3,500 sq. ft. weight room to serve all varsity teams,
A 1,500 sq. ft. classroom that is large enough to accommodate the entire football team, which can be divided into three smaller meeting rooms,
Coaches' offices for football and lacrosse,
Second-floor conference rooms,
Locker rooms and team showers to accommodate 175 players,
Additional equipment, training and laundry areas.
In addition to the Packard Athletic Center, an $800,000 investment provided for the renovation of the locker, shower and training areas for women and men's soccer, track and lacrosse in George Finnie Stadium. This update eliminates the need for visiting teams to cross Bagley Road during contests. Both projects also will increase the availability of facilities in the Lou Higgins Center for the rest of the BW community.
Dedicated Coach, Teacher, Mentor
As a football coach, Bob Packard's teams went 156-54-2, including six Ohio Athletic Conference Championships and two trips to NCAA post-season competition. Overall, he was part of nine OAC title teams, five NCAA appearances and the 1978 Division III national championship. 
But as the BW Board of Trustees noted while approving the name for the new facility, "more important than his career statistics was the impact Bob Packard had on those around him. An outstanding teacher and tireless worker, he devoted countless hours to the development of his team of players and his students throughout a career marked by honesty, integrity, care and compassion."