Nineteen Students First to Graduate from Baldwin Wallace ABSN Program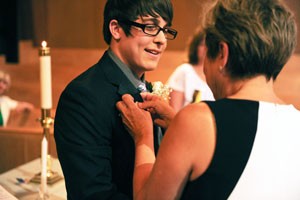 The first graduates of Baldwin Wallace University's Accelerated Bachelor of Science in Nursing Degree (ABSN) program were "pinned" as part of a distinctive celebration of completion.
The pinning ceremony at the Berea United Methodist Church marked the culmination of an intense, one-year program that features a concept-based curriculum for Bachelor's Degree holders seeking a second degree in nursing.
The graduates each received a nursing pin designed especially for Baldwin Wallace University, featuring symbols of nursing and scholarship.
In her address to the 2013 nursing class, Marti Bauschke, Vice President of Patient Care Services at Southwest General Hospital, pointed to the Latin motto inscribed on the BW nursing pin-- "Not for ourselves, but for others" -- as a guidepost for the profession.
Each 2013 graduate also received a Florence Nightingale lamp as they pledged to serve their future patients.
Several graduates of the program have already reported receiving conditional job offers even before they sit for the National Council Licensure Examination for Registered Nurses (NCLEX-RN).