Better Together: Baldwin Wallace University Celebrates Merger Centennial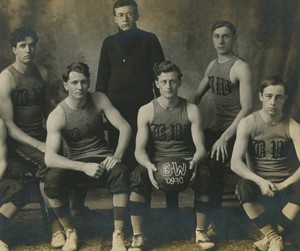 BW marks the 100th anniversary of a watershed moment in the life of the institution: the decision for two institutions to join forces.
After 50 years of working side by side, but as two distinct educational institutions, Baldwin University and German Wallace College merged in the summer of 1913. The leaders of the two Berea schools engineered the merger not simply to ensure survival, but to create a unified institution that was stronger and better.
By all accounts, 100 years later, Baldwin Wallace University is still "better together."
'Better Together' Banner Celebrates Productive Partnerships
"BW is known as a supportive community of learners," said BW President Robert C. Helmer. "Faculty, student and staff collaboration and relationships are central to our success. We also are strengthened by many productive partnerships with the wider community, so it's fitting that we celebrate the University's merger centennial this year under the banner of 'Better Together'."
BW will inject the theme into events on and off campus, including the Berea Arts Fest and community parades. The first on-campus event featured a 100-foot long cake on July 30.  Future events will include contests to name famous duos and activities that feature food pairings that are "better together."
"We plan to have some fun with the anniversary," said William Spiker, BW Vice President for Advancement. "But we also honor an important moment in the institution's and Berea's history, one that has resulted in an impressive legacy."
History of Cooperation and Collaboration Predates Merger
That legacy began to form with the founding of two institutions as separate entities.
Baldwin Wallace traces its roots to 1845 when the North Ohio Conference of the Methodist Episcopal church granted a charter to Baldwin Institute, one of the first colleges to admit students with no discrimination as to race or gender. In 1855, Baldwin Institute became Baldwin University.

Meanwhile, in 1863, trustee James Wallace gave land and Wallace Hall to establish a separate school, the new German Wallace College. In the early days, long before the merger, The History of Cleveland notes there was a spirit of cooperation between the two institutions. "An agreement was made not to duplicate course offerings, and the two schools shared academic studies."
BW Historian Jeremy Feador finds even more evidence of collaboration in the University's archives. "I think what is really neat is that the cooperation can be traced to athletics, as there were teams that were 'Baldwin Wallace' teams prior to merger. Also, students could take classes at either school."
The Push for Merger Unfolds
By 1888, financial setbacks and encroaching quarrying had forced Baldwin University to sell its original campus to the Cleveland Stone Co. for $100,000. The University used the funds to purchase a 20-acre campus at the northeast corner of Front St. and Bagley Rd.
With Baldwin University continuing to struggle financially in 1911, the Methodist Episcopal Conference stepped in to press for the two schools to unite. But it wasn't until July of 1913 that a letter from the Baldwin University Trustees officially proposed consolidation. 
One month later, on August 26, 1913, the official Memorandum of Agreement that married the two schools as Baldwin-Wallace College and established Dr. Arthur Breslich of German Wallace as president, was approved unanimously at a joint trustees meeting at the Hotel Statler in Cleveland. The first guiding principal for the alliance was, "There shall be a genuine union of the two institutions rather than a mere working agreement."
Genuine Union Endures
And so, in 2013, BW marks the centennial of that "genuine union" with these words:

"Whether it's the extraordinary engagement of faculty working in tandem with students to achieve the highest levels of personal development, the remarkable, holistic staff support that makes BW a place where intentional excellence thrives, the respectfully nurtured partnerships with neighbors at home and around the globe, or our deep, enduring alumni connections… In each of these ways and many others, we are strengthened as individuals and as an institution; we are lifted up and made better … together."