Medical Mutual Boosts Campus Wellness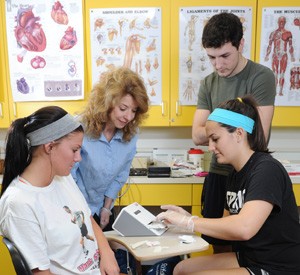 With the goal of making Baldwin Wallace University "an even healthier place to learn and work," Medical Mutual has awarded a two-year, $87,000 grant to enhance campus wellness initiatives.
The University plans to create a new office of health promotion and add a part-time staff position to lead an enhanced, strategic and coordinated focus on personal health.
"Helping our students, faculty and staff develop healthy attitudes and lifestyles is becoming an increasingly important part of preparing them to be productive workers and citizens," said President Robert C. Helmer. "We are grateful to Medical Mutual, our longstanding health insurance provider, for helping us to develop new wellness resources and expand the personal health programs available to our campus community."
Ongoing Effort to Increase Personal Health Resources
In recent years, the University has stepped up efforts to promote healthy habits. In addition to free use of BW fitness facilities, the BW community has access to resources that include an Employee Wellness Council; a variety of weekly classes for all levels of fitness; regularly scheduled all-campus health and fitness events; health tips via email; and a number of Health Enhancement programs such as Health Coaching, Individual Stress Awareness and Healthy Weight Management.
"We applaud BW for seeking new ways to involve students, staff and faculty in consistent and intentional wellness education and activities," said Jared Chaney, chief communications officer for Medical Mutual. "As a highly regarded wellness leader, Medical Mutual shares the goal of developing healthy, active, productive citizens."
BW hopes to have the new health promotion coordinator in place later this spring.
About Medical Mutual
A trusted insurer for more than 75 years, Medical Mutual of Ohio is the oldest and largest health insurance company headquartered in the state of Ohio and its Family of Companies has operations in Georgia, Indiana and South Carolina. As a mutual company, Medical Mutual operates for the benefit of its members without being required to meet the demands of stockholders or Wall Street analysts. Instead, the company focuses on developing products and services that allow it to better serve its customers and communities. Visit us at: medmutual.com.