Student Scores Internship with National eSports Star "Day[9]"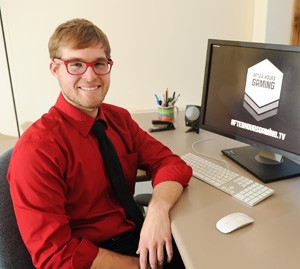 With a little help from a faculty connection, a student at Baldwin Wallace University landed an internship with the man Forbes magazine called "one of the biggest names in the world of eSports today."
In case you're not wired in, eSports is a competitive form of video gaming that connects thousands of online users and has become increasingly popular in the professional world as a replacement for the traditional softball league. Cameron Dunbar, a junior at BW, works as an editor on recap and promotional videos for Sean Plott's Day[9]TV. In fact, Dunbar and Plott are the only names you'll see in the credits.
"This internship has opened all sorts of doors into the eSports industry," Dunbar said. "Being connected with someone so huge in the field has given me opportunities to get involved with numerous other projects."
The After Hours Gaming League (AHGL) is composed of teams from Fortune 500 companies competing for a $5,000 prize to donate to a charity of the winner's choice. Plott, aka Day[9], organized the competition and serves as commentator for these events on his Day[9]TV. Forbes described Plott, CEO and "Funsmith" of Day[9]TV, as "the face and voice of professional Starcraft in America."
Dunbar, a film studies major and Strongsville High School graduate, said he has always been interested in both the video game community and video editing. After forming the BW Starcraft Club (one of the most popular games in eSports), Dunbar was approached by the club's faculty advisor Dr. Carol Gregory with an opportunity to help promote the After Hours Gaming League, which is how he eventually became connected to the Los Angeles-based Plott and Day[9]TV. 
He was already a fan of Plott's work. "I used to (and, of course, still do) watch his web show and am an avid fan, so to have the opportunity to work with him directly has been really cool."
The Day[9]TV videos that Dunbar helped to create, have drawn more than 20,000 YouTube views each. The online segments feature highlights from recent eSports matches, with Plott providing the play by play and analysis.
Dunbar advises, "If you want to have an opportunity like this, you have to make the effort to get to know your professors on more than a superficial level. Don't forget that they can have all sorts of connections in the field you are interested in, or even something totally unexpected." 
Dunbar is currently producing his own full-length feature film, as well as working as a freelance photographer and videographer. He plans to remain connected to Day[9]TV and thinks the possibilities for the future are unlimited.