BW Diversity Leader Wins Recognition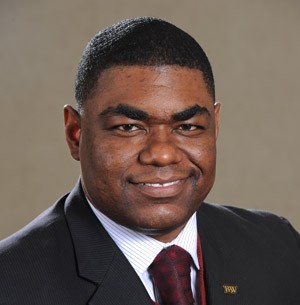 Charles "CJ" Harkness, director of diversity affairs at Baldwin Wallace University, has been named to Kaleidoscope Magazine's 40/40 Club, Class of 2013, recognizing exceptional leadership.
By Miranda Jackson '15
Every year the  Kaleidoscope acknowledges 40 African Americans who are 40 years of age or younger making significant contributions in their organizations and in the greater Cleveland area. One of the 40 this year, CJ Harkness, is Chief Diversity Officer and Title IX Coordinator overseeing all the University's diversity initiatives.
"I am honored to be recognized by Kaleidoscope Magazine and excited to contribute to Baldwin Wallace University's long standing commitment to diversity and inclusion," said Harkness.
Before coming to BW, Harkness served in a similar capacity at Ashland University for nearly 13 years. Additionally, he was a consultant and program manager for the Ohio Foundation of Independent Colleges (OFIC), a statewide consortium representing thirty-four member institutions including BW.
Harkness earned his MA in Practical Theology from Ashland Theological Seminary and his BA in Physical Education from Mount Union College. In the Greater Cleveland community, he serves as a member of Alpha Phi Alpha Fraternity and a member of the pastoral staff at Mount Zion Church of Oakwood Village.
Harkness says he has a passion for "helping others reach their potential through diligent advocacy, candid advising, and proactive programming."