Fiddlin' Around in Berea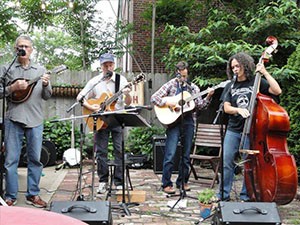 Mesh Bob Dylan and Hank Williams with four Ph.D.s in a setting that is anything but the back roads of Appalachia.
The result: Front Porch.
"Old-time, mountain, blue grass, folk music – call it what you want," explained Mark Mattern, one of four band members and Baldwin Wallace professors who comprise Front Porch. "For us, it is a way to make soulful music with close friends who also happen to be colleagues."
From the Backwoods to the Front Porch
The band, Front Porch may have been an idea long before these four BW professors came together. As German Professor, Steve Hollender recalls, "I grew up around this kind of music in rural Missouri, although we didn't really have it in our home. I remember going with my parents to an Old-Time Fiddlers' Contest at the local fair when I was quite young—maybe 2 or 3—and being completely enthralled with that music."
With that backwoods sound in mind, Hollender ran into political science professor, Mark Mattern with his mandolin case in hand and they started up this folksy, blue grass sound. Later, philosophy professor, Kelly Coble and music theory professor, Beth Hiser joined the group to expand their repertoire and add a different twist to the sound.
Community to Classroom
These four professors with their different backgrounds and disciplines seem to create the perfect collaboration of everything from "Old Joe Clark" to a familiar Beatles tune. Their music is not only about the collaboration of colleagues but everyone in the room including the audience. As Coble puts it, "In my memory the greatest moments are when effort and self-consciousness disappear and everybody, players and listeners, seem to be participating in the same phenomenon."
This group phenomenon also helps when working with their students. Hiser notes, "When I'm teaching about certain harmonies or chord progressions, I often use a Front Porch song as a classroom demonstration."
Not only does the band help with music classroom demonstrations, but it also helps the professors to be seen as real people. As Hollender puts it, "I think in some way its consoling to students to realize that their professors have other interests and it certainly improves my image to be associated with all the others in the band."