Cyber Wars: BW Students Top 2013 State Cyber Security Competition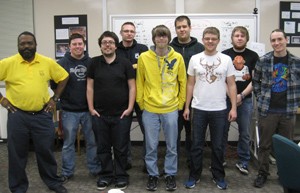 Fending off attacks by diabolical hackers, a team of students from Baldwin Wallace University emerged on top in the 2013 Ohio Collegiate Cyber Defense Competition (CCDC).
The ongoing Collegiate Cyber Defense Competition works like this: teams of tech-savvy students from two-year and four-year colleges and universities build and defend a network of computers from professional hackers, who work to breach each team's security. For an added challenge, as the so-called "Red Team" attackers strike, the competition judges simultaneously throw in network upgrade tasks for each team to complete.
Real World Problem; Real World Experience
The competition offers the students hands-on experience in cyber security, just as real breaches by computer criminals increasingly grab headlines and the attention of business and government leaders grappling with this 21st Century threat. Even the Pentagon has marked cyberspace as a domain of warfare, vital to the national interest.
Faculty advisor Kenneth Atchinson says the experience students gain from preparing for and participating in the competition is invaluable. "This is as close to being in a 'real life' scenario as one can get," Atchinson says. "The experience of working as a team to secure the network, getting tasks from judges, then having hackers attack your system in ways you may not have expected--you just can't get this from a classroom."
BW Moves On to Regionals
As the Ohio winner, BW's student tech masters will face off against the top teams from Illinois, Indiana, Iowa, Michigan, Minnesota, Iowa, Missouri and Wisconsin in the 2013 Midwest Regional Collegiate Cyber Defense Competition taking place in March 22-23 at Moraine Valley Community College, Palos Hills, Illinois.
"The stakes are higher at the Regionals," Atchinson says. "The professional hackers are more fierce and the tasks from the judges more involved."
Baldwin Wallace won the state CCDC in 2011, and went on to place 2nd in the 2011 Midwest Regional.