BW Begins Live Streaming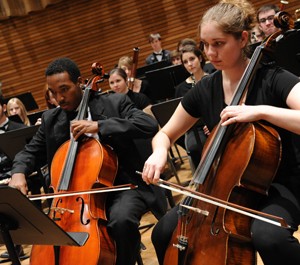 The advent of live streaming for select Baldwin Wallace Conservatory performances has been a huge hit, and will come in handy if you can't get a ticket to the nearly sold-out Holiday Concert.
The BW Conservatory of Music's popular annual Holiday Concert on December 8 is once again close to a sell-out. But this year, you can hear the music of the season performed by BW's vocal and instrumental ensembles without a ticket. Earlier this semester, BW began sharing select concerts through live streaming on the web and it's been a hugely popular innovation.
"Our primary goal was to share these concerts with friends and family who are unable to travel to campus," said Bryan Bowser, Assistant Director of the Conservatory, External Affairs. "With half of our Conservatory students coming to us from outside Ohio, it's been a big hit with our parents. Even local families, who found it difficult to get to events, like our Thursday afternoon convocation recitals, have enthusiastically welcomed the addition of webcasting."
Listeners from Coast to Coast
This semester, BW scheduled 12 concerts to be live-streamed. Concerts are only streamed live and, due to copyright issues, are not archived for future viewing. Viewers are instructed to open the Conservatory live-stream a few minutes before a concert is set to begin and to "be sure to adjust the speakers attached to your computer."
Online comments following the concerts included coast to coast thumbs up from Philadelphia to California and places in between. "Loved hearing the Motet [Choir] all the way here in Oklahoma! Beautiful!," wrote Lori Fuller. 
Upcoming Concerts on the Web
In addition to the Sunday, December 8, 2 p.m., Holiday Concert, BW is also streaming the December 6, 8 p.m. Symphony Orchestra performance.
"After the first concerts, we actually had to upgrade our live streaming package with the provider because the user traffic was so heavy," said Bowser. "Based on the response, we will stream another slate of 15 concerts in the spring and are looking for new ways to apply the technology."