Nonprofit Leader, Publisher to Speak at 163rd Commencement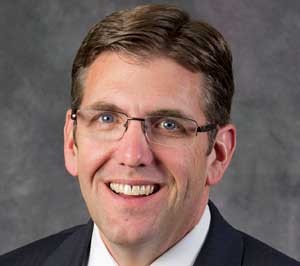 Over 1,000 undergraduate and graduate students will participate in the 163rd Commencement ceremonies May 11-12 as speakers William "Bill" Kitson and Brian Tucker address the BW community.
Kitson, president and CEO of United Way of Greater Cleveland, will speak to 813 students and guests at the undergraduate ceremony Sunday, May 12, 2:30 pm, in the George Finnie Stadium (rain site: Ursprung Gymnasium in the Lou Higgins Center).
Tucker, publisher and editorial director of Crain's Cleveland Business, will address 223 graduate business and education students at the graduate commencement Saturday, May 11, 10:30 am, at Ursprung Gymnasium.
Strong Leadership for United Way
Before coming to Cleveland last June, Kitson served seven years as president and CEO of United Way of Greater Toledo, where he led their change to a community mobilization model focused on graduating children. Prior to that appointment, he was president and CEO of United Way of Champaign County (Illinois).
His 24 years of community building, volunteer and leadership experience in the United Way system also includes service in Wisconsin, New York, Connecticut, and his native Rhode Island.>
In March, he completed his first United Way of Greater Cleveland fundraising campaign, achieving the highest year-to-year increase in a decade. The result exceeded the goal and raised $41.4 million to advance education, income and health initiatives in the community.
In Cleveland, he serves on the Mayor's Cleveland Transformation Alliance and is a member of the current Leadership Cleveland class. He also co-chairs the United Way Worldwide Network Engagement Committee and is a past co-chair of the United Way Worldwide 2011 Staff Leaders Conference. Other service includes being a member of Ohio Governor Strickland's Anti-Poverty Task Force and co-chair of the local census committee. Kitson, a graduate of Hartwick College (NY) and member of its Board of Trustees, was Hartwick's 2002 Distinguished Young Alumnus of the Year.
Award-winning Journalist for Four Decades
Spearheading Cleveland's top business news publication for 28 years, Tucker has brought journalistic integrity, analysis and commentary to Crain's Cleveland Business. In addition to being publisher and editorial director, he is vice president of Crain Communications Inc., which owns Crain's Cleveland Business and 30 other digital/print publications in the U.S. and Europe. He came to Crain's after six years with Associated Press (AP), where he had multiple assignments leading to being named assistant bureau chief—Los Angeles. Among his many successes, he has won reporting and editorial writing awards from AP, United Press and The Press Club of Cleveland. In addition, he is the recipient of the 2012 Society of Professional Journalists (Cleveland chapter) Distinguished Service Award and 2000 U.S. Commerce Department Volunteer Leadership Award. A Kent State University graduate, he received two distinguished awards from his alma mater and was vice chair of its Board of Trustees. Active with community endeavors, he is currently a board member of the Rock and Roll Hall of Fame and Museum and The First Tee of Cleveland. His extensive list of professional, civic and leadership activities ranges from being a past president of The City Club of Cleveland to the Cleveland Orchestra to the Presidents Council Foundation to serving on the boards of more than 20 organizations.
Thomas Sutton to Deliver Baccalaureate Address
Baldwin Wallace draws its Baccalaureate speakers from the BW community. This year Thomas Sutton, professor of political science, will deliver the Baccalaureate address on Sunday, May 12, 10 am, at Kulas Musical Arts Building (Boesel Musical Arts Center).