BW Harnesses the Power of the Sun to Produce Clean Energy and Cost Savings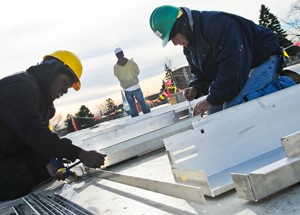 The addition of a large, rooftop solar array at one Baldwin Wallace University building will produce enough energy to power 20 homes and move the University closer to its first "carbon-free" building.
Workers from the Cleveland-based Bold Alternatives Solar Energy company installed 416 panels on top of the Center for Innovation & Growth (CIG) at 340 Front Street in the north quad of BW's Berea campus this month. The hope is that power generated by the large array, combined with green features already built into the design of the young building, will offset a large portion of CIG's electrical needs, vastly reducing its carbon emission impact and operational expenses.
"Coupled with the building's existing geothermal heating and cooling system, it should come close to producing a carbon-free building. No power from fossil fuel," said Professor David Krueger, co-director of BW's sustainability major and director of BW's Institute for Sustainable Business Practice (ISBP).
The Cleveland-based GoSol, LLC will own and operate the system which can produce enough power to meet the energy needs of 20 homes. Under a solar services agreement, GoSol will sell BW all of the solar generated power for a rate that will be less than standard utility rates, allowing the University to use clean energy and see an immediate cost savings, with no capital investment.
Cutting Edge Technology Fits Center for Innovation
The CIG, along with the newly renovated Thomas Family Center for Science and Innovation (completed in 2010) are heated and cooled with earth-friendly geothermal technology and include energy-efficient lighting and filtration systems. The cutting-edge, sustainable technology is fitting for a building that houses programs to foster innovation, entrepreneurship and economic development for the region.
The new solar array is capable of producing 105 kilowatts of power. Students and the University's buildings and grounds department can monitor the solar production via the Internet, as well as a wall mounted kiosk. The experience with this large array will help to inform future discussions about the potential to expand solar power at BW.
Latest in a BW Green Programming and Building Boom
The installation is the just the latest of BW's continuing efforts to advance campus sustainability, including energy conservation; conversion to clean energy sources; waste reduction, recycling and composting.
BW's Ernsthausen Hall was the first residence hall in Ohio to utilize the environmentally friendly GeoExchange heating and cooling technology, and BW is now converting all three freshman residence halls to geothermal, which will bring to eight the number of campus buildings utilizing this ecofriendly climate control.
The recently renovated Amelia Harding House for Sustainable Living, which houses 47 undergraduates, has the latest green technologies for sustainable living, including solar power, a vegetative roof, permeable pavers, rain gardens and on-site food production. Harding utilizes a solar system that is similar to the CIG project, but on a much smaller scale.
A leader in sustainability programming as well, BW launched the Midwest's first undergraduate major in sustainability in Fall of 2008 and provides community consulting services through the Institute for Sustainable Business Practice (ISBP) and the Sustainability Clinic.
"All of these initiatives bolster BW's leadership position in the area of sustainability," said Dr. Krueger. "BW students are able to study sustainability in the classroom and practice sustainable living."
Cleveland Companies Power the Project
Bold Alternatives, which designed and installed both the CIG and Harding House solar systems, is a NABCEP certified solar PV installer located in Cleveland and is a veteran-owned small business. "We thoroughly enjoyed working with Baldwin Wallace University to complete this project," said Rob Martens, president of Bold Alternatives.
The solar array's 416 modules are mounted to the roof using the next generation ballasted system from Direct Power and Water (DPW Solar), a wholly owned subsidiary of Mayfield, Ohio-based Preformed Line Products.