BW Business Professor Teaches Joy of Living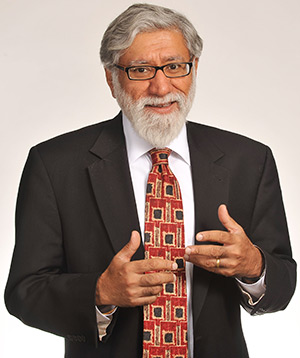 Dr. Param Srikantia blends the wisdom of Indian mystics with his knowledge of business and life to give people of all ages what he hopes will be a life-changing experience. "It is the generous and unwavering enthusiasm and support of the participants, sharing the experience with friends that is responsible for the seminar's growing popularity," he says.
Param Srikantia is dedicated to helping others find "the magic of inner peace," but first he has to tell you exactly "Why Life Sucks."
It all began when his 15-year-old son, Elliot, commented a few years ago that, "Life seems to have so much potential but we make so little of it." Srikantia believes in listening to the wisdom of children, because "adults forget about the beauty of the journey and become obsessively focused on achieving the goal instead."
Humor Used to "Awaken Greatness"
After spending three years absorbing the wisdom of Indian mystics, he formed his "Why Life Sucks: Enjoying the Lightness of Being" seminar. Srikantia, a former television host in India who knows the art of entertaining and energizing a live audience, delivers the five-hour presentation in a similar style to stand-up comedy, blending group exercises, animated storytelling, pantomimes and guided meditation to "help awaken people's greatness inside them."
The humor and captivating style seem to make the information accessible to a wide audience. "I am not the biggest fan of 'touchy feely' topics," said attendee Howard Lutz. "The opposite was true of this seminar. It was four hours and I would have gladly listened the entire day."
Another workshop participant compared Srikantia's presentation style to her favorite comedian, "His mannerisms remind me of Robin Williams, and I have not laughed that hard in a long time," she said.

Five Advanced Degrees Did Not Lead to Fulfillment
In the seminar, Srikantia warns against becoming "human doings" or "human havings" rather than human beings. True happiness, he contends, "comes only when you stop trying to use external evidence to prove your self-worth."
"Every one of us is trying to be extraordinary, which implicitly means you've already decided you aren't."
Srikantia has earned the equivalent of four master's degrees and a Ph.D. and uses his own life as an example of how academic achievement was an attempt to relieve his feelings of inadequacy. "Inner peace comes from loving yourself. It doesn't happen by achieving 'stuff'," he said.
A popular professor in BW's business division, Srikantia believes his seminar applies to all majors and all types of people. "This wisdom is disappearing because it isn't in modern education systems. We are full of knowledge, but devoid of wisdom."
Rave Reviews Build a Following
Srikantia launched his seminar with 35 invitees last year and, largely through word-of-mouth, personal invitations, attendance has grown steadily. Thousands of people have attended to date, thanks to the support of the Baldwin Wallace MBA Association and MBA program. Audiences include students, faculty, and staff at BW, along with therapists and psychologists interested in Srikantia's teachings.
He also has worked with the nonprofit group The Gathering Place to customize the seminar for families touched by cancer. He presented "Pathways to Inner Peace: A Global Voyage for Those Touched by Cancer" at The Gathering Place in Westlake on February 9, 2013. 
"A hope of The Gathering Place is that everyone who has been touched by cancer is able to find pockets of peace in the midst of the storm,"  the organization's Eileen Coan wrote in an announcement for the workshop. "Figuring out what gives you solace on the journey with cancer can be frustrating, so we offer a wide variety of tools."
Srikantia's "toolkit" and philosophy are woven into his business courses as well.
Having taken a business class with Srikantia, former student Ivana Batkovic came to the seminar with high expectations and said she was not disappointed. "Professor Srikantia's workshop was incredible and it reminded me why I choose BW in the first place; forward thinking, openness and opportunities to become a well-rounded individual. I am still raving about the session and got many of my friends and colleagues excited about it."
A number of people have invited their older children to hear Srikantia. "My son loved the seminar, reported Martin Flagg. "He thought Dr. Srikantia was the best speaker he had ever seen. FYI, he has seen the Dalai Lama speak."
Hidden Potential Seminars with Param Srikantia
After the success of "Why Life Sucks," Srikantia introduced a series of new seminars that explore ways to address everyday challenges and unleash hidden potential.
Unleashing Your Deeply Hidden Potential
The Failure of Success and the Success of Failure
The School as Factory: Protecting Your Children From Manufactured Ignorance
Awake in a World that is Sleepwalking
Rejuvenating Our Being: Thriving In Illness
Beyond the Ecstasy of Love and The Agony of Marriage
Facing Death: A Cosmic Prelude to The Unknown
Fostering the Health of Health Care Professionals
Mystical Pathways to Inner Peace
To see the latest seminar schedule, visit the BW MBA Association for updates.
About Param Srikantia
Param Srikantia, professor in BW's Division of Business Administration, is a former television host in India who knows the art of entertaining and energizing a live audience.
Business Career
Before joining BW, Srikantia was consultant to The World Bank Group, designing workshops on poverty reduction strategies for finance ministers from 30+ countries. Earlier, as program officer for an organization established by the US Agency for International Development, he delivered workshops on strategic planning to top management teams in 70 countries. In India, he headed up human resources for American Cyanamid Company and was personnel manager for the Unilever Group.
Publishing & Presentations
Srikantia's book "The Architecture of Human Greatness" is based on a five-year research study which involved talking with thousands of people from around the world about extraordinary moments in their lives. Srikantia also has authored, published or presented, more than 35 scholarly papers.
Education
Srikantia holds a Ph.D. in Organizational Behavior from Case Western Reserve University and Master's degrees in Business Administration, Human Resources and Organizational Psychology.
Teaching Experience
Beyond BW, Srikantia served as lead faculty at the Weatherhead School of Management, Case Western Reserve University and as visiting faculty at the School of Public Policy, George Mason University, Washington D.C. He also taught in the business program at University of Iowa, Jamnalal Bajaj Institute in India and FAE Business School in Brazil.
Consulting & Research
Srikantia consulted and led research projects for the National Science Foundation, the World Bank, Catholic Relief Services, Coca Cola, Arthur Andersen & Co., Siemens, Cadbury's, Unilever, and United Technologies.