BW Students Add Rock to their Bach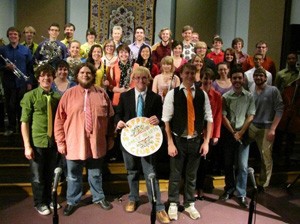 What started as a small, student-driven performance for campus friends has quickly grown into a BW tradition. With a wink and a nod to the Conservatory's long-running Bach Festival, the new "Beatles Festival" pays tribute to the music of the Fab Four, and students are running the show.
By A. Paige Greene '14
Baldwin Wallace University is known for having the oldest collegiate Bach Festival in the nation, but three years ago a group of Conservatory students decided that they wanted to bring variety to the University's spring concert season; the result was a Beatles cover band. Their small performance for a handful of students has evolved into a free, weekend-long festival, March 22-24, celebrating the world's biggest selling musical artists.
It started in 2011, when a group of seniors chose to perform what they thought would be a small concert of the songs from the album Abbey Road. They were overwhelmed with support, and decided to make it an annual event. James Penca '13, a sophomore at the time, started working on plans for the following year with Kevin Johnson '12, "the lead guitarist, music director, and arranger for all three of our festivals… he's the backbone of the whole group."
Overflow Crowd Greets Second-Year Performance
In 2012, the "BW Beatles" returned, this time with Patrick Hyzy '14 on piano. They performed the songs of Sergeant Pepper's Lonely Hearts Club Band, and had 100 chairs ready in anticipation for a larger audience. Instead, Penca said, they were met with "nearly 200 people in the room, wall to wall people just standing and sitting on each other. People were lining the hall to listen."
Hyzy added, "We were at fire-hazard capacity."
2013 Sees Concert Evolve into Festival
It was after this show that they decided to expand the concert into "the oldest collegiate Beatles Festival," playfully mimicking the University's revered Bach Festival. For March 2013, the weekend event will feature two concerts (one in a bigger venue) covering the songs of the 1967 album Magical Mystery Tour, along with a "Super Beatles Sunday" concert that will showcase a variety of talent from different performers. Penca hopes "to have as many different arrangements as possible… I want a cappella versions, string versions, stuff that people have never heard before."
Performers will include students, faculty, staff, and community members. "We even got an offer from an Italian female Beatles tribute group, but we couldn't afford to fly them here."
"The growth and success of the Beatles Festival is a result of the entrepreneurial spirit and sheer determination of the Conservatory students involved with this project," said Susan Van Vorst, director of Baldwin Wallace's Conservatory of Music. "The BW Conservatory encourages students to push the boundaries of their talent and seek collaboration. When you combine gifted artists with an environment that fosters exploration and creativity, everybody wins."
Future to Bring Fourth and Final Album to Festival Rotation
With so many members of the core organizing group graduating this spring, what can we expect for the Beatles festival next year?
"Luckily Patrick's been helping us run this for the last two years, so a lot of it will be on him… we're going to rotate four albums so the blueprint will already be laid out… people won't have to do it from scratch," said Penca. The rotation will include Abbey Road, Sergeant Pepper's Lonely Hearts Club Band, and this year's Magical Mystery Tour, plus a fourth and final album that will be revealed at the close of this year's festival.
"The Festival as an annual BW event reflects the pure joy our students experience from sharing their music with others," Van Vorst said. "Passionate audiences of the Baldwin Wallace community play a role in the evolution of this Festival," because without their support, "the event would not have grown into its present format."
2013 Beatles Festival Spread Over Three Days
The 2013 Beatles Festival kicked off on February 17 with an off-campus preview performance at Nighttown Jazz Club in Cleveland, where the performers took audience requests along with their previously rehearsed set.
The festival weekend will begin with a University Preview on Friday, March 22 at 10:30 p.m. in Fynette-Kulas Hall, Boesel Musical Arts Center, 49 Seminary St.,  followed by Magical Mystery Tour: In Concert on Saturday, March 23 at 7:30 p.m. in the John Patrick Theatre, Kleist Center for Art & Drama, 95 East Bagley Rd, Berea. The festival will conclude on Sunday, March 24 at 1 p.m. with the Super Beatles Sunday concert at 1 p.m., Fynette-Kulas Hall, Boesel Musical Arts Center, 49 Seminary St.
All events are free and open to the public, although seating is limited. "All you need is love," Penca added.