New Book Chronicles BW's "Utterly Unconventional" Founders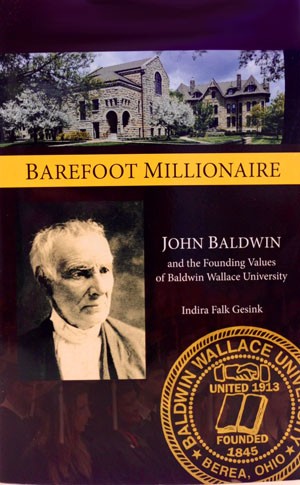 "Uncle Johnny" spurned fashionable clothing, rarely combed his hair and avoided wearing shoes. He was a "barefoot millionaire" who cared little about money, but a held strong conviction that slavery was a sin and that education was freedom. Who was this unconventional man?
None other than John Baldwin, one of the founding fathers of Baldwin Wallace University, and the subject of a new book by BW history professor Indira Gesink.
Personal Stories Explain Why BW Exists
In Barefoot Millionaire: John Baldwin and the Founding Values of Baldwin Wallace University (August 2013), Gesink delves into the lives and values of Baldwin and other fascinating founders.
"Their stories tell us why Baldwin Wallace exists, and what it exists for." Gesink writes in her preface.
Dr. Gesink, who received a BW Gigax research grant to explore the history of the founding of BW, discovered that Baldwin and the other founders of BW's parent institutions were true educational pioneers. In an era when attending college was a privilege reserved for white, wealthy, urban men, Baldwin and other founders insisted that education be available to all, regardless of sex, color, creed, or ability to pay.
Broad Definition of "Slavery"
"They saw slavery as the chief evil of their time, and they interpreted slavery very broadly to include the enslavement of people, enslavement to addiction, and enslavement to ignorance that allowed authorities to tyrannize the masses," Gesink explains. "Education was intended to free the mind from ignorance, to strengthen souls to resist temptation, and to empower individuals with knowledge that would allow them to act for the betterment of humanity."
Gesink has served as chair of BW's Department of History since 2006, and initiated a program in local history field research for undergraduate students, using Berea's cemeteries as a laboratory for research and conservation.