BW Grad Crashed the Auto Industry Boys Club 50 Years Ago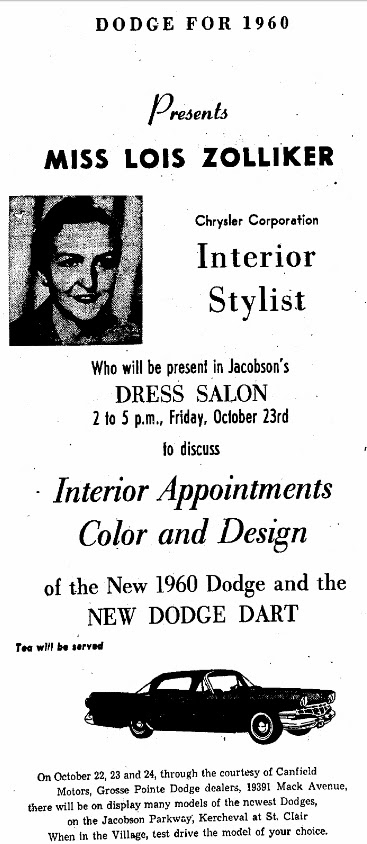 As General Motors makes history by naming Mary T. Barra as the first woman in the top job at a major auto manufacturing company, Baldwin Wallace University remembers an alumna who helped blaze the trail a half-century ago.
Lois Zolliker '44, like Barra, a native Detroiter, spent 22 years in the automotive industry as a designer in the Interior Design Studios of Chrysler (1955-70) and at American Motors (1971-77). Described in a 1972 news report as one of the "The Big Four's Big Four Females," Zolliker was the first woman to head a department (of male designers) and the first to make it to the executive level.. way back in 1963! She went on to establish her own product color consulting business.
In a letter looking back at her remarkable success in a male-dominated industry, Zolliker observed, "The fact that I survived before 'Women's Lib' has special meaning for me because I have always believed that with the proper attitude and work ethic, one can move mountains. I also found that the men I worked for and with were my greatest allies. Any barriers or inequality that they saw THEY had removed."
Of her unlikely rise within the auto "boys club," Zolliker went on to add, "It was not all sweetness and light, but most of those experiences had a humorous side."
So, Mary T. Barra, congrats and best wishes in your new post at the helm of GM. But don't forget that you "stand on the shoulders of giants" including a pioneering BW graduate named Lois Zolliker.