Abundant Campus Squirrel Population Provides BW Research Opportunity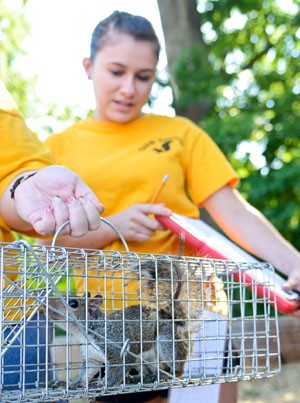 A bushy-tailed squirrel scampers back and forth in a wire cage below the towering trees of BW's leafy north campus. A closer inspection reveals a small, numbered red tag in the juvenile male's ear—evidence that this is not the first time this particular Eastern Gray has been a part of the live trapping and tagging taking place around BW this summer.
As BW junior and Lakewood resident Carmen Rush '14 records the tag number on a research log, Dr. Karen Munroe, assistant professor of biology, gently herds this "repeat customer" from the live trap into a pointed canvas bag. The snug, dark sack both calms the squirrel and provides a strategically placed Velcro opening for safely taking measurements and DNA samples, before the animal is released unharmed.
"We like to point to the ones who come back repeatedly for our peanut butter bait as confirmation that there's very little disturbance to the animals during the five minutes or so we examine them for this study," says Munroe, who's leading the bio-conservation research project investigating squirrel social behaviors and mating.
Conservation Concerns for Squirrel Populations
Gray squirrels and fox squirrels are abundant in Northeast Ohio. In fact, Munroe calls them "ubiquitous," and that's just one of the reasons she sees these common backyard animals as ideal research subjects.
"At the same time, while the types of squirrels we see here enjoy healthy populations, there is a real need for basic ecological data for management and conservation of the more than 80% tree squirrel populations or subspecies in the world that are threatened or endangered," Munroe says.
Students Notch Research Experience
BW senior biology major Nicholas Jeffers '13, from South Amherst, Ohio is one of two student research assistants Munroe hired this summer. "One key role that the squirrels play in the environment is that they are ecosystem engineers," Jeffers says. "You can tell how healthy the trees are in the forest based on how healthy the squirrel population is."
Rush, the other student in the summer research trio, describes the experience as "awesome" for a sustainability and biology double major.

"I feel like I'm in the classroom all the time and I hear about other people doing research," says Rush, a Bay High School graduate. "I don't like to sit around. I like to be doing something. Participating in this study, I feel like a real scientist." In fact, the science is quite real and involves a two-pronged approach, with both field and lab components.
Study Involves Radio-telemetry and DNA Testing
Fieldwork consists of live trapping and marking the small mammals, along with placing radio collars on the females for classic field behavioral observations. "The idea is that individual squirrels can be located in the wild via radio-telemetry and we can study their interactions with each other particularly during nocturnal nesting," says Munroe. "Essentially, we're attempting to track and identify how and when squirrels interact with each other and how much time they spend together."
In the fall, lab work will focus on analyzing DNA samples to determine paternity, genetic diversity and other factors that might paint a clearer picture of squirrel mating and social structure.
"I decided to help Dr. Munroe out on this project because I wanted to get my feet wet to see if conservation biology is a career path I might go with," Jeffers says. "It's actually given me a lot more experience than I thought it would. I really like this field and it's something I'd like to pursue."
Humane Handling Methods Stressed
On a typical data collection day, the traps are placed around campus early in the morning and captured squirrels are examined a released within a few hours. Munroe stresses that she uses humane and "standard methods of capture, handling, marking and observation approved by the American Society of Mammalogists and permitted under Ohio Division of Wildlife and BW's Institutional Animal Use and Care Committee."
"We love our squirrels as much as anyone," Munroe says, sporting the trio's bright gold "Team Squirrel" tee shirt. "If an animal is overly agitated, we just let it go without collecting any data."
Knowledge is Power in Wildlife Management
Munroe hopes the information gained from this study will further the knowledge of mating and social systems in tree squirrels, particularly in ever-growing urban settings. "Our investigation also could benefit the flip side to the species of conservation concern," Munroe continues. "For example, there's a need for better management techniques of gray squirrels in England and throughout Europe, where they are considered non-native, invasive species."
Munroe notes that whether the aim of wildlife management is to increase the population of a threatened subspecies or to control one that's invasive, resources are limited. "Understanding territory/home range requirements, mating requirements, mechanisms of dispersal and effects of competition can help us make smarter decisions about wildlife management."