New BW Residence Draws Waiting List of Students Ready to Live "Green"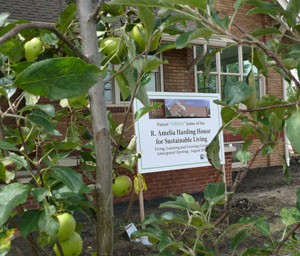 Baldwin Wallace University's newest living-learning community is online, as the R. Amelia Harding House for Sustainable Living brings together students who share the goal of reducing their environmental footprint.
Imagine living in student housing where watering the roof, monitoring your energy consumption and harvesting fresh food are blended into everyday residence life. That and more are being experienced by 47 students who moved into the new R. Amelia Harding House for Sustainable Living, BW's first building designed to Gold LEED certified standards.
"At Harding, sustainability is evident in the building's design using environmentally sound materials and techniques, as well as the lifestyle of the residents who collectively commit to green living," says Robin Gagnow, BW's director of residence life.
Generous Grant Brings Sustainable Housing to Life
Students initially proposed the idea for a sustainable housing option. BW zeroed in on the possibility of adapting the building at 77 West Bagley Road, a former nursing home that the University had purchased and repurposed as a student residence hall. Since 2004, the former Hanson House had been used as storage and temporary office space during campus construction.

A generous gift from the Harding Family Charitable Trust and others (see donor list in the right column) transformed the building and gave it a new, purposeful life. This fall, the state-of-the-art R. Amelia Harding House for Sustainable Living opened its doors with a full house, plus a waiting list.
"Harding House is an essential piece of BW's leadership in sustainability," says Professor David Krueger, co-director of BW's sustainability major and director of the University's Institute for Sustainable Business Practice. "Not only do we have the region's first undergraduate and graduate programs in sustainability, but now we have a state-of-the-art living learning laboratory that enables students to practice sustainable living."
Mix of Students Attracted to Sustainable Living
"We made this community a housing option for the entire campus and the result is a healthy mix of students," says Gagnow. "Among the declared majors, only half are sustainability majors and minors."
In addition to a greenhouse and organic garden, green features incorporated into Harding include individual energy use monitoring, a partially vegetative roof that reduces rainwater runoff and regulates the building temperature, and an indoor bike storage facility to encourage two-wheel riding instead of driving.
"I love the idea of the indoor bike storage," says Kory Gillisie '14 of Parma. The accounting/criminal justice major says northeast Ohio winters are hard on bikes left outdoors. "I had to throw my bike out at the end of last year because it was rusted through." As a two-sport athlete, Gillisie is also interested in cooking healthy dinners in Harding's new kitchen.
Much More Than Just State-of-the-Art Green Tech
With building materials and design items like permeable pavers, porous concrete, bioswales, rain barrels, composting and a straw-bale shed, the project aspires to reach Gold LEED Certification. But, Harding House aims to become much more than a building filled with sustainable technology and tools.
"This will be a real living-learning community," says Janet Stocks, Associate Academic Dean. "The students living in the house will come together to set ground rules and goals for themselves, wrestling with questions such as whether students should be allowed to have individual microwaves and refrigerators in their rooms, cars on campus, etc. These guidelines will be passed on to next year's residents, but each year students will review and reaffirm which sustainable living practices they will commit to."
"Gateway to the Larger Community"
"The building is also a gateway to the larger community to help others see and learn how they can adopt many of our small-scale technologies and practices in their own lives and organizations," says Krueger.
Eventually, students will be tapped to lead community outreach and educational tours that show off the sustainable technology and practices to both the on and off-campus communities. Plans also call for interpretive signs to explain the sustainable design elements and there's a top floor classroom available for community use.
"Environmental responsibility has been a priority at BW for some time now. But we are very excited about the potential of Harding House, not just for the students living in it, but also as an influence on the rest of campus," Stocks says. "We have an increasing number of students at BW interested in living sustainably, and we are delighted to be supporting them in their efforts."
Other Sustainability Milestones at BW
Ohio's first residence hall featuring geothermal heating and cooling – technology now used in all major new campus construction.
Ohio's first undergraduate academic major in sustainability
Ohio's second on-campus wind turbine to produce clean, renewable energy
A more than 40% reduction in our paper consumption
Installation of a composter to take almost all food services food waste out of the waste stream
Installation of energy conservation technologies to reduce our electricity consumption (e.g., motion sensors in all classrooms)
The use of biodegradable disposables in our food services
An enhanced recycling system that increased our recycling content by at least 500%
Experimentation with conversion of used kitchen grease for the production of bio-diesel fuel for campus vehicles that we hope will result in near-term conversion of all kitchen grease into bio-diesel fuel for campus vehicles
Increased availability of bike racks to discourage vehicle use
Adoption of "green" cleaning products for all campus buildings