Luchsinger's Experiences Deliver Meaningful Outcomes, Recognition in Field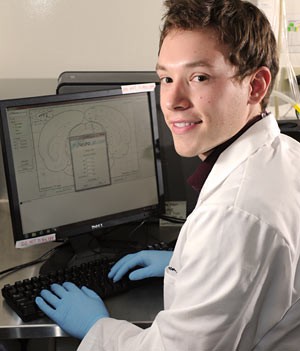 Joe Luchsinger '13 set himself apart as a student by not only attending classes while at Baldwin Wallace University, but by creating one.
Part of a grant-funded independent study program, called Summer Scholars, his experience was one of many hands-on learning opportunities he's had at BW. 
Leading Research Projects at the Undergraduate Level
Luchsinger consistently pursues endeavors—both academic and personal—while completing majors in neuroscience and physics. 
During summer 2011, Luchsinger and Dr. Edwin Meyer, assistant professor of physics at BW, worked to create an applied calculus course now integrated with BW's curriculum. The project was part of Summer Scholars, a living-learning program focused on research, scholarship and creative endeavors.  He hopes to spend time this summer writing a textbook for the course.
An internship at BW's neuroscience lab furthered Luchsinger's efforts to co-author presentations and papers for scholarly organizations like the Society for Free Radical Biology and Medicine and Brain Research.
Luchsinger's work has led him to present at the International Behavioral Neuroscience Society.  He also presented at three Society for Neuroscience conferences, the largest neuroscience conference in the world.
Diverse Opportunities Deepen Appreciation of Studies
Beyond his educational initiatives, Luchsinger has seized every opportunity to contribute to and enhance his appreciation for community.  Winner of the Downtown Cleveland Alliance "Downtown Photo Challenge," his artistic abilities were spotlighted when his photo was selected to showcase Cleveland street life and architecture.  
In summer 2011, Luchsinger co-instructed a problem solving camp for gifted teens.  He currently tutors refugee children whose families fled Liberia during the Liberian Civil War.
In the fall of 2012, Luchsinger hopes to mountaineer, backpack and sea kayak the rough environment of Patagonia, an extremely rugged mountain region in South America.  He wants to practice survival skills and learn about the environment and the impact that humans have on the region.  This study abroad will build on his previous trips to Europe and Alaska.
Preparation at Baldwin Wallace Fosters Career Path
At BW, Luchsinger credits Dr. G. Andrew Mickley, a professor in the psychology department and professor and chair of BW's neuroscience program, and Dr. Edwin Meyer, assistant professor of physics, for his success.  Their large impact on Luchsinger is evident as he considers them fantastic professors who have very different styles of teaching and mentoring.  "They have pushed and stretched me in different ways, allowing me to become the student I am today," he said.