Baldwin Wallace Students Defy Gravity on NASA's "Weightless Wonder"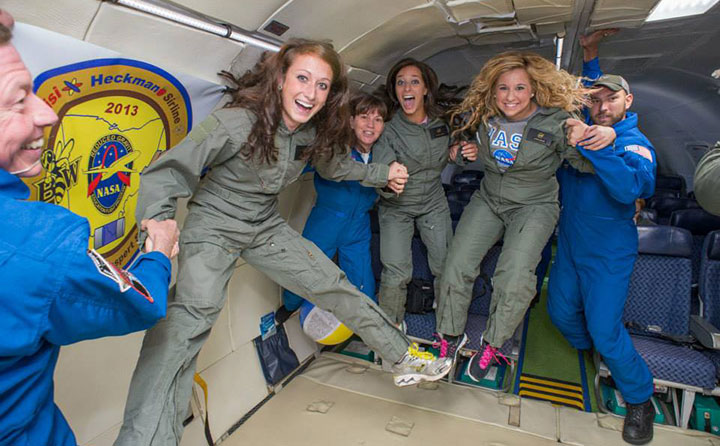 The chance to defy gravity is usually reserved for astronauts. For the BW students just back from a research trip to NASA's Johnson Space Center in Houston, it's an incomparable experience that's hard to put into words.
"First, the plane executes a 2-G dive, which makes you feel like you are weighed down to the sides of the aircraft," explained Maia Matyas '15, BW biology major from Strongsville. "Then all of the sudden, you look around and people are floating everywhere inside the cabin. I looked over at astronaut Cady Coleman and her hair was sticking out in every direction and then I glanced down at my feet and I was hovering at least 6 inches off the floor!"
Delays Threatened to Derail Zero G Experience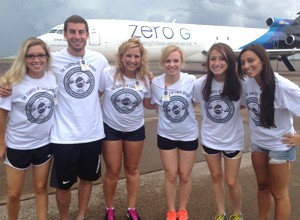 With flight delays threatening to scrub their long-scheduled ride aboard the Zero G plane, also known as the "Weightless Wonder" (and, more infamously, as the "Vomit Comet"), the five BW science majors and a John Carroll University early childhood education major all managed to log flight time. Two students made it on the very last successful flight of the week.
"The three days of flight delays actually simulates being an astronaut pretty accurately," said Dr. Greg DiLisi, an associate professor of science education at JCU and adjunct associate professor of physics at BW. DiLisi mentored the students as they designed and conducted one of just 14 experiments selected for NASA's 2013 Reduced Gravity Student Flight Program.
Time for Research and Time to Enjoy Being Weightless
The experiment conducted by the team involved using a custom device to observe and record the stability of liquid bridges during the wild, 10,000-foot altitude swings over the Gulf of Mexico. Their observations, conducted during two different, two-hour flights, have implications for bridge stability, collagen formation in joints, and certain respiratory illnesses.
Sarah Rospert '13, a BW biology graduate and student team lead from Milan, Ohio said her flight produced 20 successful data points. "The rest of the 12 parabolas (maneuvers) gave us time to enjoy feeling weightless. It was one of the greatest experiences of my life and I didn't want the flight to end."
For Carissa Bonus, Fall '13, a biology  major from North Royalton, floating in zero gravity was "exhilarating, terrifying and unique." The scary part, she said, involved the lack of control. "Just a simple kick of the legs can send you spiraling to the other side of the plane." But she also found beauty in the "graceful and effortless" movements that "reminded me of watching fish in a tank."
All-Ohio Student Team Plans Public Presentation
In addition to Bonus, Matyas and Rospert, the gravity-defying, BW student research team also included Judson Sprandel '14, a biology major from Akron, and Logan Sirline '14, a neuroscience/chemistry major from Collins, Ohio.
Beyond their research, the team's trip to Houston also included class work, flight training, engineering test reviews of the experimental apparatus, behind-the-scenes tours of NASA facilities and conversations with NASA astronauts.