Senior Bridges Classroom Studies With Study Abroad to Ghana, Africa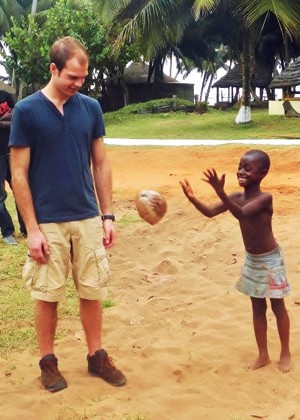 A Baldwin Wallace University Language Across the Curriculum (LAC) Scholarship is helping to provide Kristopher Smeage an opportunity to study abroad in Cape Coast, Ghana.
He will spend a semester taking classes, conducting research and honing useful language skills for his career. Smeage is a senior at BW, majoring in political science, philosophy, as well as international studies. He is a native of Grand Haven, Michigan.
Designed to prepare college students for the cross-cultural and multilingual demands and job opportunities of the 21st century, the LAC Scholarship Program offers financial support to students who wish to apply their foreign language skills to a variety of curricular contexts outside the classroom. 
Ghana Offers Opportunity to Leverage Language Skills
While in Ghana, Smeage plans to conduct research on the strains Ghana's government has faced in accommodating political refugees. He will conduct interviews, partly in French, with some of the over 20,000 refugees that have recently flooded Ghana due to political turmoil and violence in the neighboring Cote d'Ivoire. Smeage is also completing a French literature course among other classes, at the University of Cape Coast.
Overall, Smeage plans to use this opportunity to advance his language skills. He considers language, especially French, essential to his career aspirations of becoming an attorney in the area of international relations. When not cultivating his language skills, Smeage is most excited about the possibility of taking drumming lessons from a local Ghanaian drumming group in Cape Coast.