BW Junior Studies the Science of Competitive Jump Rope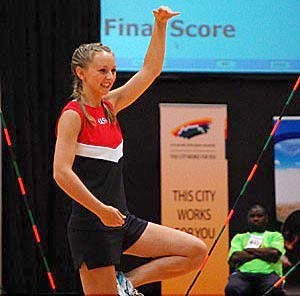 Plenty of statistics have been recorded for sports like football, basketball and baseball. But for a lesser-known sport—competitive jump rope—barely any research exists.
Jen Evans '13 plans to utilize a summer research program to give jumpers the analytical attention they deserve.  Meanwhile, Evans is gaining attention at BW as a student whose studies are taking her across campus and around the world.
Program Offers Opportunity to Study Uncommon Sport
A Strongsville resident majoring in pre-physical therapy and public health, Evans' is participating in BW's live-in research program Summer Scholars. A jump rope multi-time Grand National Champion and two-time World Medalist, her 10-week Scholars project focuses on whether competitive jump ropers have a better bio-mechanical jump-landing technique than those who participate in other sports, like volleyball. 
A member of the Heartbeats Jump Rope Team, her jump rope career has taken her to competitions and events worldwide.  Locally, Evans has performed at the Cleveland Clinic, Cleveland Cavalier's games and nationally at events such as the Macy's Day Parade. Recently, Evans was chosen as a "Team USA Captain," a "true honor in the jump rope world," she said. 
"The best speed jumpers jump well over three-hundred times per minute…so the results should be impressive," Evans said.  She will partner with BW health and physical education faculty member Amy Jo Sutterluety for the project. 
Experiential Learning at BW Serves Students, Communities
On a broader scale, Evans and her fellow public health students traveled to Maine in March 2012 to study rural health issues.  The one-week trip offered a real-life understanding of the struggles and successes of a remote rural fishing community near Lubec, Maine.  "There is something incredibly powerful about traveling somewhere impoverished and thinking about how you could help change the place for the better," Evans said. 
Taking her skills outside the classroom has offered invaluable experiences during her time at BW.  "The College's different opportunities have really changed my life," she said.  Evans has traveled to Ireland, Colorado and Washington D.C., in addition to Maine to further her educational initiatives.