BW Student Wins WHO Internship in Geneva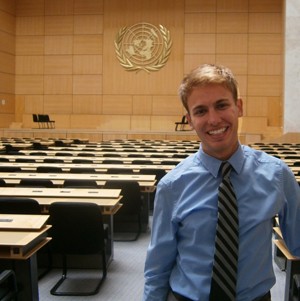 Charlie Hayes, a junior in the International Studies program at Baldwin Wallace University, has been chosen as one of the youngest interns for the World Health Organization (WHO) in Geneva, Switzerland.
By A. Paige Greene '14
Parma native Charlie Hayes '14, a dedicated student with a passion for research is excited to be spending the fall semester "learning more about, not only the world and different cultures, but also myself." Having the Swiss Alps as a backdrop is a nice bonus!
Internship Focused in WHO's Tobacco Free Initiative
Hayes, a 2010 Holy Name High School graduate, is working in the WHO's Tobacco Free Initiative division under the director of Tobacco Product Regulation. His responsibilities include updating the WHO Tobacco Laboratory Network Database, researching tobacco product regulation, and assisting in the preparation of the Science Based Tobacco Regulators meetings.
"Diplomats from member UN nations will contact our director before they have a parliamentary meeting to hear the official WHO stance on specific products… One of my tasks is to e-mail these diplomats back as soon as possible with the WHO's stances on different products."
BW, Clinic Research Background Helped Build Resume
No stranger to research, Hayes participated in BW's 2012 Summer Scholars Program, and also served as an ambassador for the University's Undergraduate Research and Creative Studies program. His interest in research started as an upperclassman at Holy Name High School.
"I was working fast food and was desperately trying to find a more appealing job when I came across an opportunity for a paid research internship at the Cleveland Clinic," he said. "Interested and wanting to stop working with grease, I applied, not thinking I would get it. Fortunately, I did … which turned into working with the Cleveland Clinic for about two years." During his time at the Clinic, Hayes was a research assistant for a Nursing Administration study that was later published in The American Journal of Nursing.
Along with his WHO internship, Hayes is taking classes while in Geneva, so that even after changing his major "several times," he will be able to graduate in four years. "BW wants you to challenge your academic major and I feel the curriculum is set up to allow for a lot of self discovery."
Advice for Students Seeking Diverse Undergraduate Experiences
Theatre and German also have been part of Hayes' self-discovery. In fact, he remains involved in plays at BW, even after moving on from majoring in theatre. Hayes performed in Mr. Marmalade, directed by Jack Winget, in February and, in the spring, in The Violence of One, a student-written play that explored the effects of serial killers on the community. He also serves as one of two house managers for the University's Kleist Center for Art and Drama. Recently, he was inducted into the German National Honor Society at BW (Delta Phi Alpha).
Hayes recommends that students who may be looking for similar experiences should not fear rejection. "Go out of your comfort zone. Talk to people you normally would not strike up a conversation with. If something seems interesting to you, try it. You may not like it, but if you don't try, you never know… Go out and have fun, but stay very motivated and on top of your studies. I think that is what college is all about. Study hard, work hard, play hard."
For Hayes, the time in Geneva is a gift that blends study, work and play. "I am so grateful for this opportunity to intern at WHO," he said. "I have a 3-day weekend every weekend, so it gives me chances to travel. I want to fly back to America (in December) with amazing stories of my travels, a glowing recommendation from my supervisor at WHO, a greater appreciation for different cultures, but most of all, an even clearer sense of my own self and values."