BW Physics Major Studies Earth's Atmosphere at NASA Langley Research Center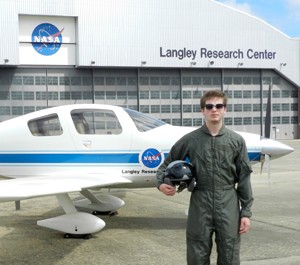 Alec Weisman, who grew up fascinated by rockets and space, earned the opportunity to spend ten weeks over the summer in an internship at NASA Langley Research Facility in Hampton, Virginia.
By James D. Stringer '13
BW student Alec Weisman spent the summer working with GLOBE (Global Learning and Observation to Benefit the Environment), a program designed to engage students around the world in collecting and sharing data about Earth's atmosphere.

As part of the internship, Alec studied aerosols by taking hourly readings of Aerosol Optical Thickness... basically measuring the transmission of light through the atmosphere and using a sun photometer to take readings and build his data. 

"To supplement the research-grade ground-based photometers atmospheric scientists use, NASA has launched a series of observation satellites into earth orbit," Alec explains. "One in particular fires a laser directly downward and measures the optical backscatter -- the light that is reflected straight back to the satellite. Through lab calibrations, this information tells us a lot about our atmosphere, primarily aerosols and their compositions."
GLOBE"s Impact on Education
Alec also helped facilitate the research of visiting teachers seeking GLOBE certification.  He sees the GLOBE program as crucial to providing real data for teachers and students. "GLOBE has the potential to fix two problems: one, the lack of creative problem solving skills in high school graduates, and two, the environmental crisis that we don't have to live with," he says, referring to changes in the atmosphere.
Alec has his own aspirations to teach, perhaps through a program like Teach for America or The Woodrow Wilson Teaching Fellowship. "I've always had a passion for education because it's been educators in my past who have given me the push that has gotten me here," he says.
NASA Internship a Perfect Fit
Working at NASA was a dream assignment for the Stow-Munroe Falls High School graduate and he is grateful for this opportunity. "I've been fortunate," Alec says, "to fall under the guidance of some great people throughout my life and because of their help I've been able to do some great things."
In addition to his studies as a physics teaching major, Alec is a self-described environmentalist, serving as an officer of BW's Students for Environmental Awareness, the Bicycle Co-operative, and as an early member of the Farmer Jackets Community Garden.