Student's High-Profile Internships Leverage Career in Film Production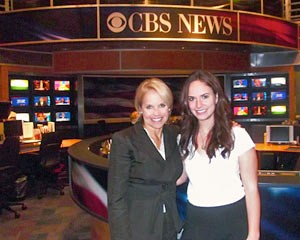 With three internships under her belt, senior Elizabeth Nunnally planned to focus on her studies during her final semester at Baldwin Wallace University. But for Nunnally, some of the best opportunities come when she least imagines them.
In a tight job market and highly competitive field, Nunnally recently landed a position with the Cleveland Browns. As the content production intern, she will work from the Cleveland Brown's stadium editing feature stories.  This exciting job follows three unique and experience-building opportunities.
Diverse Experience Broadens Knowledge and Resume
Participating in the New York Media Experience Program in 2011 offered Nunnally an much-desired opportunity to make connections in New York City.  After an intimidating last-minute internship search, Nunnally was offered work at CBS and the Rachel Ray Show. "CBS was the obvious choice," she said.  There, she worked on lighthearted stories and even found a feature that aired in March 2011. 
This semester, Nunnally's visit to a BW career fair spurred an offer with Fox 8 Cleveland. She works on the morning show, greeting guests and facilitating show setup. More "laid back" then CBS, Nunnally appreciates the unique experience and exposure.

Internship Offers Relevant Experience, Understanding
A broadcasting and mass communication major, Nunnally, who is originally from Madison, Ohio, is working towards a career in film. Her experience on the Cleveland-based set of the comedy "Fun Size" offered a realistic preview of the inner-workings of film production. Nunnally's workdays, often 12 hours long, were spent overseeing the production office.
Though exhausted after each day, Nunnally recalls,"it was an overall great experience."  The job solidified her love for the industry, even with long hours. The laborious position wasn't an easy catch, either. An unexpected interview came while Nunnally was visiting friends last spring. "I ran around my friend's rooms borrowing dress clothes and went to the interview that night," she said. The next day, an offer for an interview with the director spurred a second round of frantic closet raids.
Nunnally didn't land her ideal job as the director's assistant, but had the opportunity to fill in for a production assistant for a few days. With a smile always on her face, her persistence and positive demeanor earned her an offer to keep the job for the summer.