BW Program Celebrates 20 Years of SPROUTing Seeds of Success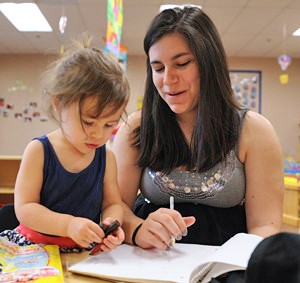 For Lily, hitting the books at college takes on a whole new meaning as the adorable two-year-old gleefully opens her coloring books as she sits alongside mother. Though she'll probably never remember her early college days, the toddler has already spent a year on campus.
She along with generations of other children are participants in Baldwin Wallace's successful SPROUT (Single Parents Reaching Out for Unlimited Tomorrows) program.
Under the direction of Julie Candela, SPROUT recently celebrated its 20th anniversary. It provides young single mothers with a supportive environment and services that enable them to complete their college degrees and, in most cases, break the cycle of poverty for both mother and child.
Instilling the Importance of Education
Rachel DeBonis believes she is already a role model for Lily. While she studies and takes notes, the youngster sits alongside her and pretends she is writing as she artfully maneuvers her crayon on the pages of her coloring book.
"SPROUT is making an impact on Lily," said DeBonis, who has a 3.8 GPA after her first year. "When she's older, she'll know that if you're determined you can achieve whatever you want."
Likewise, Jean Bradanick and her five-year-old son Cody are benefiting from SPROUT. In May she will be graduating from BW having earned both undergraduate and graduate business degrees as part of the College's 3/2 accounting program.
Helping Women Define Themselves
"SPROUT was a catalyst for my success in my personal life and professional career," believes Tara Stephens (now Lee), who was among the first group of SPROUT participants in 1990. Today a business systems consultant, she said it gave her the strength and determination to define herself.
She went on to say that her daughter received many advantages. Andrianna, who was nine months old when her mother started as a freshman, graduated with honors with an undergraduate degree in biomedical humanities. 
Giving Single Mothers a Voice
For Shameka Jones Taylor, participating in SPROUT empowered her. Now the chief financial officer for Cleveland City Council, she said the program helped her gain her voice. "So many times young, single mothers are told what they can't do and why they can't succeed. We were told to challenge ourselves and set our sights higher."
Having graduated in 1997 with an undergraduate degree and in 2007 with an MBA from BW, Taylor's ongoing commitment to education influenced her daughter Mone'a. She is now entering her third year of college.
Making an Ongoing Impact
Success also followed Gretchen Carlson Natter '96, who works at Gettysburg College directing its Center for Public Service. She started with SPROUT in her junior year when her daughter Signe was five months old.
"I was very involved with campus groups that focused on advocacy and outreach," noted Natter. "She came with me to meetings and volunteer work. As a result, Signe became aware of issues and perspectives at an early age. She is currently studying international affairs at American University in Washington, D.C.
"At BW, I had a strong circle of people who helped me achieve my goals. In my role at Gettysburg College, I engage the institution in issues of social justice and community change. I use the lessons I learned at BW each day," she added.