Class of 2016 Includes Sixth Generation of Illustrious Family to Attend BW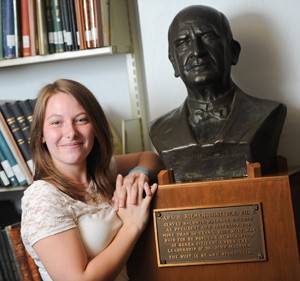 Baldwin Wallace University is continuing a deeply rooted tradition by welcoming the sixth generation of the Riemenschneider family to the BW family this fall.
By A. Paige Greene '14
Mauren Schindler '16, said she is proud and "ecstatic to be attending the alma mater of so many of my family members." The Riemenschneider family has a long history of contributions and accomplishments at Baldwin Wallace. Karl Riemenschneider, who served as the second president of German Wallace College (later to become Baldwin Wallace University) from 1894 -1908, was the first of the family to be integrated into the BW history.
Karl's son, Albert Riemenschneider (Schindler's great-great-grandfather) was the founding director of BW's Conservatory of Music and founder of BW's 81-year-old Bach Festival. He also contributed numerous rare manuscripts to BW, which eventually led to the establishment of BW's Riemenschneider Bach Institute by Edwin A. Riemenschneider '30. The institute houses one of the finest collections of baroque manuscripts and first editions in the Western Hemisphere. Edwin and his son, JohnRiemenschneider '61, also combined for 58 years of service on the BW Board of Trustees.
It was Mauren's grandfather, the accomplished physician Thomas A. Riemenschneider '57, who was most instrumental in bringing her for visits to BW as a youngster. Tom, who also earned his MBA from BW in '87, was a BW Professor of Business Administration, Director of Graduate Business Programs, and Founding Director of the Health Care MBA program from 1996-2001.
Visits to the Berea campus that's been so heavily influenced by her ancestors ultimately pushed Schindler to enroll at the school. "As a kid I always loved coming to BW (though I was mostly just in the conservatory part of the campus). BW was small, which I liked, and as I grew older I liked it more and more and thought about it as a potential college. I think I always knew deep down that I would end up here because I feel comfortable being here."
Schindler, a 2012 graduate of Olmsted Falls High School, is the daughter of Karen Riemenschneider Schindler (who earned her master's degree in education from BW) and Brian Schindler. While remaining undecided on a major, she noted that "I am a music lover and performer myself, and though I may not be in the conservatory, you will definitely see me around."
In 1989, the Riemenschneider family received the University's inaugural Family Heritage Award. The now annual award recognizes "distinguished families who, throughout generations, have provided many years of faithful and loyal service to Baldwin Wallace University."