Library Evolving to Meet Changing Needs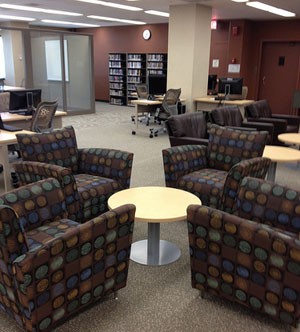 Rapid changes in technology demand that modern university libraries evolve to meet the needs of 21st century students and faculty. Over the summer, Baldwin Wallace University's Ritter Library made a number of improvements to both technology and the physical environment of the north campus building.
"The library has been transformed in a number of ways," said John DiGennaro, BW Director of Educational Technology, Distance Learning and Library Services. "We've added six new study rooms, two new conference rooms, lobby café, a business center with a book scanner, multimedia computers, tables, chairs, multiple soft-seating areas, a restroom, and a collaborative classroom." 
New library resources also include 20 iPads, available for both short-term (by the hour) and long-term (by the day) loans. 
Partnerships and Feedback Drive Collection Development
For students who still want a "good read" in the form of an old-fashioned book, BW has partnered with the Berea branch of the Cuyahoga County Public Library to offer a standing collection of popular fiction and nonfiction titles in the lobby. 

DiGennaro also notes improvements in access and convenience. "We have created a new "request an item" tool available on the homepage of the library website where students, faculty and staff can request books, journals, articles, DVDs, track the progress of the requests, as well as recommend books, DVDs and journals for the standing collection."

A new library science intern will assist with collection development. DiGennaro says the library has already added a number of books, videos, and journal subscriptions, based on faculty requests.

"We also have eliminated the fees for inter-library loan articles, making the requests much simpler," DiGennaro adds. "We know we have more work to do, but we want our campus community to take an active role in the changes to Ritter Library."
Open House Planned
The library will host an open house, along with the Core Curriculum Office and Learning Center, on the afternoon of Thursday, September 27. Details will be announced closer to the date.
To see more photos of the progress on the library update, browse this online flickr photo album. For more information, visit the Ritter Library website