Brain Power: Baldwin Wallace Neuroscience Program Earns International Accolade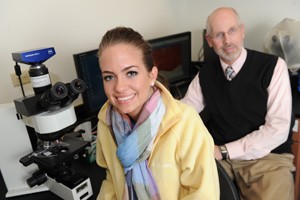 The international Society for Neuroscience (SfN) has named Baldwin Wallace University's neuroscience program the International Undergraduate Program-of-the-Year.
The prestigious award recognizes BW's multidisciplinary program as an innovative role model of "excellence in educating neuroscientists.
"BW's neuroscience program has risen to a place of international distinction through the hard work of many people across campus, especially emeritus professor and founding neuroscience chair, Dr. Andrew Mickley," said BW president Robert C. Helmer. "We're delighted that the Society for Neuroscience has acknowledged the remarkable results of these efforts."
"We're also pleased that the success of the students enrolled in our program offers continual evidence of BW's highly effective approach to teaching neuroscience."
Innovative Tiered Peer Mentoring Program Shines
"What really seemed to impress the selection committee was the 3-step peer mentoring program that engages everyone who's involved in neuroscience at BW," said Mickley, who serves as executive director of Nu Rho Psi, The National Honor Society in Neuroscience. "It provides a very special bond between groups of students working in faculty labs, as well as bonds between students and faculty. These are career-long relationships that are maintained well beyond BW graduation."
The BW model works for neuroscience major Morgan Rogers '14, who said the early exposure to neuroscience research and peer mentoring has "accelerated my maturation, leadership skills and confidence."
BW Neuroscience Deemed "Light Years Beyond the Pack"
All neuroscience undergraduates at BW benefit from research opportunities right from the start, and often publish papers, present at international scientific conferences and win federally funded student internships at leading universities. Those who have applied to graduate programs or medical school have enjoyed a remarkable 95 percent overall acceptance rate.
"I presented my research at my first SfN meeting in Miami during the fall of my sophomore year," said Dr. Cynthia Kenmuir, a "proud graduate of the Baldwin Wallace neuroscience program" and neurology resident at the University of Pittsburgh Medical Center. "When I interviewed for MD/PhD programs, I received feedback about how competitive my resume was compared to those from peers at top academic universities. I believe the BW neuroscience program is truly light years beyond the pack and has been so for the past decade."
International Recognition From a Growing Field
The "Undergraduate Program-of-the-Year" award, which applauds BW for "providing innovative models to which other programs can aspire," was presented Sunday, October 14 at SfN's "Neuroscience 2012" in New Orleans. Annually, the event draws more than 32,000 neuroscientists from the elite universities of Europe, Asia, Australia, Africa, South America and the U.S., who gather to discuss the latest findings in the field. BW students have presented regularly at this meeting for many years now, as they did again this year.
"Neuroscience is booming!" Mickley said. "With all the growth in the discipline and the terrific educational opportunities that are available worldwide, we're so pleased that SfN selected BW for this honor and recognized the program's innovative approaches to neuroscience education and research."
BW Neuroscience Program Now a Global Role Model
Moving forward, SfN will use BW's neuroscience program as an international role model, featuring the program on its website and disseminating details to "the global neuroscience community as a means of sharing successful practices in neuroscience education and training."
The BW neuroscience program began as a minor in 1995 with a major first offered in 2000. The curriculum, which blends psychology, biology and chemistry courses, is research-intensive and all students are required to produce an empirically based senior thesis.
Neuroscience graduates work at colleges/universities, medical schools, research institutes, industry and government organizations. Neuroscience majors with a bachelor's degree find positions in biotech firms, government labs, and pharmaceutical firms, as well as public policy, among other areas.
 About the Society for Neuroscience
The Society for Neuroscience (SfN) is a nonprofit membership organization of scientists and physicians who study the brain and nervous system. Since its inception in 1969, the Society has grown from 500 members to over 40,000. Today, SfN is the world's largest organization of scientists and physicians devoted to advancing understanding of the brain and nervous system.