Downsized to Up-and-Coming Designer: MBA Alumna Builds Successful New Career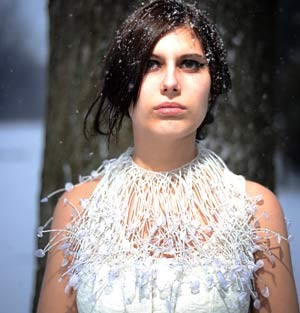 In 2009 Michelle Pajak-Reynolds was unemployed. Now she's unstoppable. The leading couture and custom jewelry designer credits her Baldwin Wallace MBA in Entrepreneurship with helping her succeed.
Her highly limited collection of jewelry has been worn on the red carpet at the Oscar awards. Currently, four stars of film and TV are wearing her pieces, and she has been a featured designer for New York's acclaimed Fashion Week.
From Job Loss to Business Gain

With a bachelor of fine arts degree in jewelry and metals, Pajak-Reynolds pursued her jewelry creations as a side business to being a GED teacher. In 2009 her teaching position was eliminated due to state budget cuts.
While reaching out for career advice, she found Baldwin Wallace's MBA in Entrepreneurship program. She says her coursework, complemented by a BW business-focused study abroad experience in Brazil, gave her the  "tools, skills and confidence" to move ahead.
She now owns the rapidly growing jewelry business she's dreamed about since she was five years old. She said 2011 was a record year and 2012 has shaped up nicely with her designs making their runway debut at NY Fashion Week in February.
"The whole ordeal lit a fire under me," she said. "I am 100 percent focused on pursuing my passion and creating my own job around something I love."
Melding Coursework with Real-World Outcomes
Pajak-Reynolds graduated in May 2012 with a 4.0 GPA. Grateful to BW for her business success, she's become an ambassador for the MBA program. Her goal is to inspire students with her success story.