Hurricane Sandy Causes Unprecedented Four-Day Class Cancellation at BW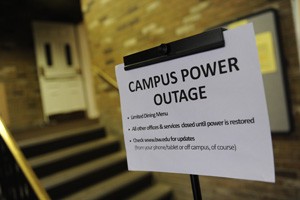 Halloween Week 2012 will long be remembered for the "Frankenstorm" that walloped the East Coast and caused an unparalleled power outage and four-day class cancellation at Baldwin Wallace University. But it also inspired an exceptional response by members of the BW community, who worked to restore power, provide hot food, and keep students safe and informed.
As the storm blew in on Monday night, October 29, lights flickered off and on, and finally, at about 2 a.m., most of the campus lost power, with just auxiliary emergency lighting remaining. Students awoke to learn that Tuesday classes would be canceled. A text message and email alert system, website and social media, plus local media cancellation lists were all activated to spread the word.
Storm Winds Down, Damage and Darkness Left Behind
As the wind and rain continued, Buildings & Grounds crews began to survey and address storm damage, which ranged from large trees downed to flooding. They also began to hook up available generators to provide heat to a limited number of buildings.
BW President Bob Helmer and his cabinet alternated between meeting in the dark Bonds Building and fanning out across campus to gather and deliver the latest information. Safety & Security personnel kept a watchful eye on the electricity-starved campus.
As the day wore on and the power company was unable to provide a firm answer on when electricity would be restored, classes were canceled through noon Wednesday and all RAs and hall directors were called in to work, as the campus hunkered down for a full night's outage.
Class Cancellation Decision: Should I Stay or Should I Go?
On Wednesday morning, with some residence halls growing chilly and continued uncertainty about electrical restoration, a number of caring staff and faculty began offering to take students into their homes, but BW's administration made the decision to cancel classes for the remainder of the week and urged students to go home, if possible.
In a statement announcing the cancellation, President Helmer said, "The results of the recent storm and power outage in Berea and BW have presented unprecedented challenges for all of us…. While campus buildings and grounds have sustained some damage from the storm, we are most thankful that all members of our BW community are safe and uninjured."
An email also went out to parents informing them of the extraordinary decision and many parents arrived to take their students home for an unexpected fall break. About 175 students remained on campus in residence halls that had heat and hot water provided by generators or in off-campus housing that had never lost power. (In fact many fortunate apartment-dwellers welcomed fellow students to charge cell phones or take a hot shower during the outage.)
Food Service: "
Neither wind nor rain nor gloom of night stops these cooks"
Throughout the week, BW Food Service workers managed to keep nutritious, hot meals available in Strosacker Hall, cooking outside in an open tent on a charcoal grill for six hours in strong wind and rain and producing salads and desserts in the dark. For students who stayed on campus following Wednesday's midday cancellation, food was provided without charge through the weekend.
One BW staff member observed, "I am awestruck by the extent to which the Food Service folks went to ensure the well-being of the students who remained on campus… kudos to them for their dedication and commitment to excellence!"
The Show and the Big Game Must Go On!
Among the students who remained in Berea were the cast members of FOLLIES, who continued rehearsals in a dark, chilly theater, with a November 8 opening night looming. Their dedication was rewarded with an invitation to warm up and enjoy freshly baked cookies and pumpkin bread at the home of Victoria Bussert, BW's music theatre director.
BW Yellow Jacket football players also stayed to prepare for Saturday's gridiron showdown with Mount Union. Before the game could be played at home as scheduled though, a large amount of water had to be pumped from a flooded Finnie Stadium.
Stuck Elevators, Flashlights and Wet Vacs
"What began as a slight glitch and power flickers on Monday evening, turned into quite a week," said Steve Crone, director for custodial services. His department came to the aid of employees trapped in elevators, worked in cold buildings with flashlights, and "followed the rain that found its way into buildings with wet vacs and fans."
"While we work in the background on most days, the staff were very much in the forefront to ensure that when the campus reopened, hopefully no one missed a beat," Crone added.
Faculty Vows to Support Students Following Academic Disruption
Faculty leaders also met and determined that coursework would resume without an extension of the semester. As students returned to classes on Monday, November 5, faculty began communicating adjustments to syllabi.
"We recognize that students have probably never faced such a significant disruption in their academic pursuits or, perhaps, in their lives in general," said Guy Farish, interim vice president for academic affairs and dean of the University. "Our goal is to support our students as they resume classes, while maintaining BW's high academic standards."
Communication, Evaluation, Wrapping it All Up
While communication in the midst of a power outage with an unpredictable ending was a challenge, University Relations staff worked on-site to collect information, and at off-site locations with power and wireless to update the University's website, send text and email messages and answer questions that came in at all hours through social media. Residence Life staffers were tasked with providing face-to-face updates, including a wrap-up at Sunday night hall meetings.
"Of course, each emergency brings its own unique challenges," said George Richard, BW assistant vice president and director of University Relations. "We're evaluating what worked and where we might make improvements in the future. One thing we know is that an awful lot of people worked very hard and rose to the occasion."
As one BW staff member put it in in an email to the entire campus, "The dedication that comes from all of our employees is remarkable and I am very proud to be part of such a great family!"