Historic Preservation Fuels Bold Modernization of Beech Street Housing Complex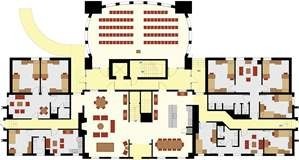 Baldwin Wallace University and Berea will benefit as part of the latest round of the Ohio Historic Preservation Tax Credits program.
A $2.8 million credit for the complex was one of eight Cuyahoga County awards announced recently by the Ohio Development Services Agency. The award should combine with earlier federal tax credits to yield approximately $4.5 million for the $11.3 million project to renovate Klein, 63 Beech and Saylor halls on the Baldwin Wallace campus in Berea. The remainder of the project will be funded through bonds and private gifts from BW alumni and friends.

"This is a tremendous boost for this project and we are very grateful," said BW President Robert Helmer. "Providing a vibrant residential experience is an important part of the educational experience for our students. This project allows us to update three of our older residence halls with exceptional facilities for today's and tomorrow's college students."
Interior Transformation into Modern Suites Already Underway
As part of BW's campus master plan, the three historic buildings that traditionally housed first-year students are being renovated to provide suite style living. Klein Hall and 63 Beech were taken offline during summer 2012 to begin the conversion. The new layout will feature two or three double occupancy rooms connected to a shared bath. Gone will be the old, large showers and baths "at the end of the hall."

Moveable furniture will replace built-ins, according to Robin Gagnow, director of residence life, and sparkling new kitchens, increased study lounges with smart boards and multiple computer display capability, a large open pavilion, glass-walled atrium and bike storage also are part of the modernization.

"In another nod to our commitment to sustainability, the halls also will use energy-saving geothermal heating and cooling systems," Gagnow added.
Opening in Fall 2013
BW expects to complete the improvements to Klein and 63 Beech in time for students to move in for Fall 2013 classes. Saylor Hall will begin its transformation later this spring, with a completion target of January 2014.
The updated complex will serve as a comfortable "home sweet home" for 185 students.
Boon to the Ohio Economy
According to the Ohio Development Services Agency, a 2011 study calculated that $1 million in historic tax credits generates $8 million in construction spending, $40 million in total economic activity and nearly 400 jobs from construction and operations.
To date, nine rounds of Ohio Historic Preservation Tax Credits have been approved for 159 projects in 34 cities, totaling $328.4 million. The program is projected to leverage $2.1 billion in private redevelopment funding and federal tax credits. So far, 51 projects have been completed, representing nearly $600 million in total project investments, which created 4,456 construction jobs and housed 6,481 permanent jobs.