From the Classroom to the Campaign Trail, BW Students Plug Into Politics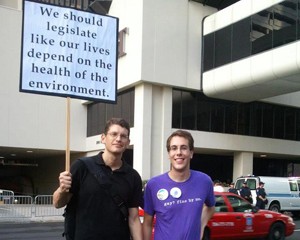 Going to college in a key battleground state during a presidential election year means politics is all around you - from the non-stop TV ads urging you to vote - to opportunities to hear the candidates in person. BW students, faculty and alumni are plugging into the 2012 political process in a variety of ways.
Courses Offer Real World Insights and Experience
Students in POL 302: Political Parties, Interest Groups and Policy are soaking up insider knowledge from a retired political veteran who recounts war stories dating back to Senator Ted Kennedy's Democratic primary challenge to President Jimmy Carter. With support from the Mandel Foundation, former Cuyahoga County Commissioner Tim Hagan is co-teaching the fall course with BW political science chair Tom Sutton (who's also very busy as a political analyst for the media).
Students in the class are using a wiki to track 'hot' races across the country and in Ohio and are required to volunteer for the campaign of their choice.
Convention Road Trip Leads to Fellowship
English teaching major Caitlyn Wentz '14 has no course requirement to get involved, but spent the summer doing fieldwork for President Obama's campaign in her hometown of Ashtabula. When Wentz was rewarded with tickets to hear the President's convention acceptance speech, she invited hometown friend and fellow BW student, Richard Bargielski '14, a sustainability major/political science minor, to go to North Carolina.
Ultimately, Bargielski and Wentz weren't able to hear the president in person when the speech was moved to a smaller venue. But, Bargielski says a big-screen watch party for ticket-holders, along with a live taping of MSNBC's "Hardball" and events for environmentalists and LGBT activists, made the trip worthwhile. "I met so many interesting people, had great conversations and heard perspectives on issues I hadn't thought much about before," Bargielski said. Since returning home, Bargielski has been hired as a paid "Organizing for America Fellow" with the president's reelection campaign.
Student Research Focuses on "Gendermandering"
For BW political science major Sara Villarreal '14, of Willoughby, the focus has been on nonpartisan research. She's been working with BW political science professor Barbara Palmer to crunch the latest census and redistricting numbers in Ohio, with eye on "gendermandering." "We wanted to gauge the impact of gerrymandering -- the process of redrawing district lines to make it more likely that a candidate from a particular party will be elected-- on the success of female candidates," Villareal said.
Villarreal and Dr. Palmer (author of Women Congressional Candidates: A Century of Change) drew some thought-provoking, initial conclusions from the data. "We found that, proportionally, it was more likely for a female incumbent in the Ohio State House of Representatives to have her district substantially redrawn than it was for a man, with 60 percent of women and 43 percent of men having their districts substantially redrawn," Villarreal said.
Informing the Electorate on Complex Issues
Meanwhile, BW economics professors Kay Strong and Lewis Sage are working to enlighten voters and elevate the political debate through Reclaim November Ohio!, a series of events sponsored by Jefferson Action, a non-partisan, non-profit organization dedicated, in part, to "making sure elected officials and politicians address the issues."
Dr. Sage is the expert on unemployment, while Dr. Strong dissects federal budget deficits and debt for the group. Strong is passionate about the need to help average citizens understand complex economic issues. "The presentations help explain how long run economic growth is stimulated, how unemployment is an outcome of short run fluctuations in the economy, and how the federal budget deficits and national debt tie back into both the growth and unemployment issues, " she said. "We generally take a full semester teaching our students about these concepts, their implications and viable policy options."
Wide Range of Political Involvement By BW Students and Alumni
Dr. Sutton says the list of BW faculty, students and alumni active in politics and government this fall is a long one. Notable BW students and alumni involved in presidential election year politics include:
Emily Householder '14 took the fall semester off to work full time for the Obama campaign. Recent grad Rosa Kovacevich '12 is a field organizer for the President's reelection effort.
 
Tim Tripepi '06 is doing advance work for Republican Presidential nominee Mitt Romney.
 
Ashley Zacharias '13 completed a summer internship with Republican State Rep. Mike Dovilla, who's locked in a heated election battle with Democrat Matt Patten. (Dovilla is also a lecturer in BW's political science department.) Chris Ventura '08 is staff assistant to Rep. Dovilla.
 
Sara Molski '02 is staff assistant to Ohio State Rep. Nan Baker (R) and is a coordinator for the Romney campaign.
 
Kyle McDermott '02 is serving as the Executive Director of the Ohio Democratic Party.
 
John Ryan '89 is field director for the re-election campaign of Senator Sherrod Brown (D).

"I tell students that the campaign fieldwork, even as a top national organizer, is a young person's job," Sutton said. "The long hours and travel can be great fun and very fulfilling when you're still young and aren't tied down."